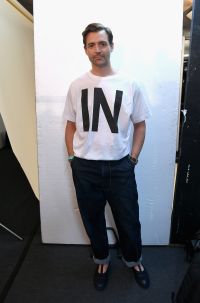 The fashion industry were almost unanimously in favour of Remain prior to the EU referendum last Thursday with 92% of UK designers stating that they would be voting remain in a poll by the British Fashion Industry (BFC).
During London Collections: Men (10-13 June) menswear designers including Christopher Raeburn, Patrick Grant of E. Tautz and Sid Bryan and Cozette McCreery, of fashion brand Sibling all made very public statements in favour of staying in the EU prior to the referendum. The BFC poll revealed that only 4.6% of UK designers voted to leave the EU.
However, during the Dior Homme SS17 men's show in Paris, Chanel creative director Karl Lagerfeld made his own views on the situation after it was revealed that 52% of Britain had voted to leave the EU, making Brexit a looming possibility.
Speaking at the show, Dazed reported that Lagerfeld said "Look who voted, it was the people from deep in the countryside, the big cities didn't want it at all".
"I don't think it will work out, they may have another vote" he went on to say "I don't think it is a good idea. The analysis of the vote shows that it is a bad decision. We don't need to say much more about it."
Lagerfeld wasn't alone in the fashion industry for his damning of the result with LOVE magazine founder and stylist Katie Grand writing "I've never been so unproud to be British" as well as Vivienne Westwood Instagramming a image reading 'No Future' referencing the Sex Pistols 1977 hit 'God Save the Queen'.