Boris Johnson is veering towards supporting Britain leaving the EU, according to multiple reports this morning. All eyes have been on the mayor of London this weekend, after he became the most senior Tory still to announce whether he will join the 'Stay' or 'Leave' campaign for the 23 June EU membership referendum.
The Observer reports that Johnson is "genuinely torn" on the issue, and that he will "chew over" whatever the prime minister says in public today, before announcing his decision tonight and explaining it in his column in the Telegraph on Monday.
ITV political editor Robert Peston has agreed with reports in many Sunday newspapers suggesting that Johnson "will back leaving the EU". Peston described Boris as a "fearsome campaigner" due to his ability to connect with the public, and believes that both he and Gove will be crucial figures in the forthcoming battle.
Johnson, the MP for Uxbridge and South Ruislip, is said to be swayed by Michael Gove's decision to break ranks with David Cameron and back the out campaign. The Mail on Sunday reports that Johnson – who is still "agonising" – and Gove met for secret talks at the mayor's Islington home on Tuesday, "where they agreed the prime minister's new EU deal was thin".
Meanwhile, "an insider" has told the Sun that "Boris keeps veering from side to side". The unnamed source said: "He's being bombarded with calls from the PM's people. We thought he was ready to back the deal but now he's wavering again and it's dangerously close to make your mind up time."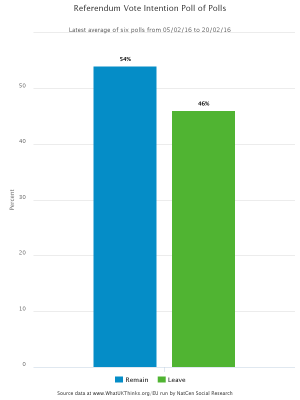 Johnson has been teasing the press over his position for months, with many speculating that he is delaying his decision in order to best position himself for a leadership bid when Cameron steps down in time for the next election. He has previously said, "I am not an outer".
There's better news for David Cameron, however, with the news that the 'Stay' campaign has surged to a 15-point lead in the first poll taken since he announced the new deal to renegotiate Britain's place in Europe.
According to the Survation poll taken for the Mail, 48% of voters now want to stay in the EU, with 33% in favour of leaving, and 19% undecided. A
A poll-of-polls created by the independent What UK Thinks group, published on 21 February, using data from ICM, YouGov, ComRes, TNS and Ipsos MORI, on 15 February shows 54% in favour of remaining in the EU and 46% against: a 3% swing towards the 'Stay' campaign.