The British public were divided over the possibility of leaving the European Union when polled on Saturday 20 February, the morning after British Prime Minister David Cameron announced his EU reforms deal.
Cameron claimed he had clinched a deal with other EU leaders at a summit in Brussels late on Friday, 19 February, that grants Britain a 'special status', and said he would campaign hard to convince voters to stay in the bloc that Britain joined in 1973. But some undecided Londoners haven't been swayed to vote "In" by the new reforms.
"I think the referendum is a good idea because it gives people a chance on something that affects them on their nation's sovereignty, their personal freedoms, so I think a referendum is a good idea. I'm undecided on which way I'll vote though," said Sadiq Warsi.
Imran Amir, who works in a newsagent in Westminster, said Britain should stay in the EU because its citizens have the opportunity to live and work abroad. "Our people are staying there as well, they are doing their jobs there as well, so we are secure with the EU. If we go out of the EU we are not secure for me," Amir said.
Also keen for Britain to remain part of the bloc was Ruth Martin, who sees the UK as equal to the other 27 members. "I think any things better together, like, countries united is always going to be better than us thinking we're... I feel like people have got this idea that the UK is better than every other country in the EU and I don't know why," Martin said.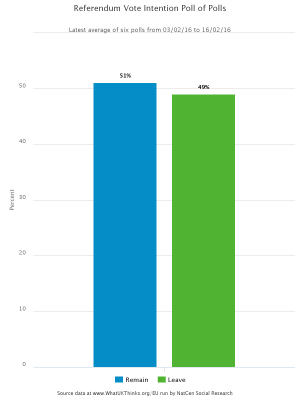 Cameron's legally-binding agreement offered concessions on the welfare rights of migrant workers, but for Victor, a Londoner, the change does not go far enough to address what he sees as a critical issue.
"Too many people come here sitting on social, doing nothing, it's just no good," he said, adding that he will vote "Out" in the referendum.
The front pages of British newspapers on Saturday were dominated by the events in Brussels. The best-selling The Sun opted for a tabloid version of the summit, while the Daily Telegraph pictured the prime minister looking perplexed next to a headline about one of his closest political allies, Justice Secretary Michael Gove, campaigning to leave the EU.
Cameron is due to make a statement to parliament on Monday, 22 February, triggering the start of the campaign for the referendum which will be held on 23 June.
Britain exiting from the EU would rock the alliance – already shaken by differences over migration and the future of the eurozone – by ripping away its second-largest economy, one of its top two military powers, and by far its richest financial centre.