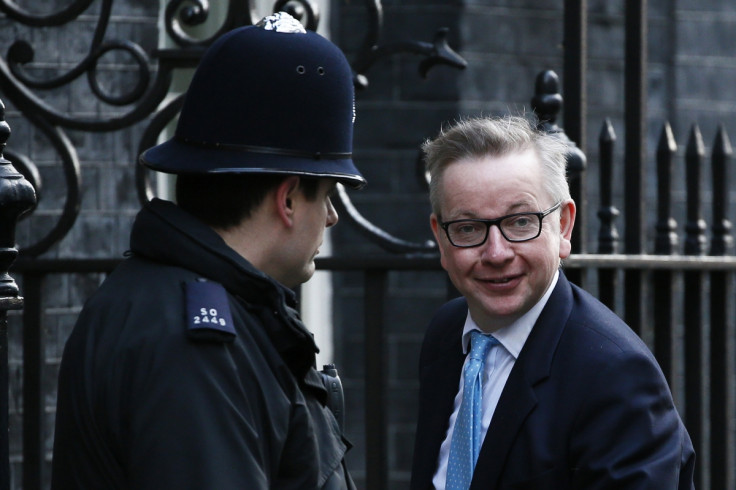 Michael Gove's opposition to David Cameron over Europe was a high stakes move but it is one that may cost him his job as Justice Secretary, it has been reported.
After saying Britain's renegotiated deal with Brussels was reversible and would not stand up under legal scrutiny, ministerial aides are said to be urging the prime minister to sack Gove following the in-out referendum on June 23.
Number 10, the Attorney General Jeremy Wright and European Council President Donald Tusk refuted Gove's claim on Wednesday (24 February).
In a sign of anger towards Gove's comments, the Daily Telegraph reported that officials in his department were told by Number 10 not to give him access to Government documents regarding the EU.
One ministerial ally of Mr Cameron's told the Telegraph: "It is untenable to have a Justice Secretary after the referendum who opposed the legal basis of the Prime Minister's deal. It just won't work."
The newspaper also reported that Gove would not step aside easily with sources close to the Justice Secretary saying that Cameron "will have a serious fight on his hands" if he attempts to sack him.
However one ally of the Prime Minister said: "They might be friends but it is hard to see how Michael could continue as Justice Secretary after the referendum."
Cameron kicked off the Tory campaign to keep the UK in Europe although two eurosceptics, Theresa May and Sajid David were not at the event, citing prior engagements.
Also Number 10 had to apologise after admitting that General Sir Michael Rose had not signed a letter from military top brass claiming the UK was safer within the EU.
Meanwhile the Independent reported that the chancellor George Osborne asked Gove to stay at his official country residence in an "apparent bridge-building exercise" as he is keen to retain Gove's support following what is expected to be a tough EU referendum campaign.