Brexit campaigners will hope to recapture the media spotlight in the wake of Barack Obama's pro-EU intervention in the referendum, after the US President warned the UK would be at the "back of the queue" for a trade deal if it broke away from Brussels. Justice Secretary Michael Gove and Mayor of London Boris Johnson are leading the 'leave' charge in the newspapers on 25 April.
Gove has warned that the NHS will face "unquantifiable strain" as the likes of Macedonia, Montenegro, Serbia, Albania and Turkey seek to join the EU.
"Because we cannot control our borders — and because our deal sadly does nothing to change this fact — public services such as the NHS will face an unquantifiable strain as millions more become EU citizens and have the right to move to the UK," he wrote in The Times.
"We cannot guarantee the same access people currently enjoy to healthcare and housing if these trends continue. There is a direct and serious threat to our public services, standard of living and ability to maintain social solidarity if we accept continued EU membership.
"In the past we might have been able to save Europe from going down the path of danger, and save ourselves from the consequences, by vetoing further integration. But we gave up that power in the deal that was concluded with other EU countries this year."
The comments come after Gove backed an Australian-style migration points system and includes two top concerns for the British electorate – immigration and health. The latest issues index from Ipsos MORI, of more than 980 people between 29 February and 23 March, put immigration top at 46% and the NHS second on 34%.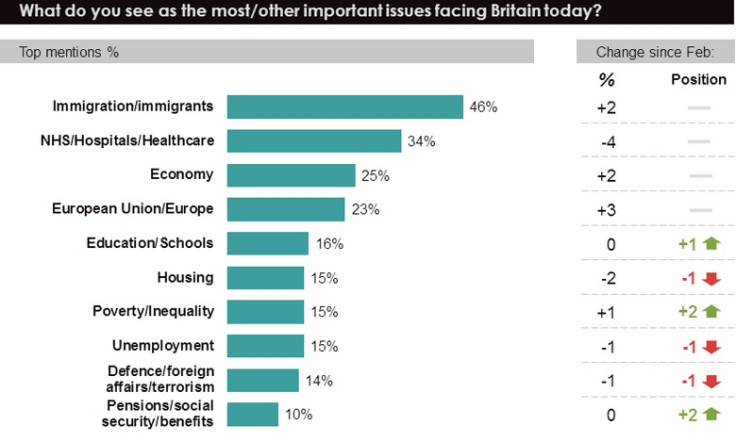 Elsewhere, Johnson has used his regular Daily Telegraph column to scrutinise David Cameron's renegotiation deal with the EU. The outgoing Mayor of London claimed the prime minister achieved "two-thirds of diddly squat" with the settlement. He added: "We need to talk about that deal in the weeks ahead, because it shows how contemptuously we will be treated if we vote to remain."
The columns pre-empt Theresa May's major speech on the EU referendum. The pro-EU Home Secretary dramatically admitted to the BBC's Andrew Marr show on 24 April that the UK's membership of the 28-nation-bloc does make it harder to control immigration.
But May stressed it would be difficult to manage migration for the UK inside or outside the EU. "If we were to be outside the European Union and still want the sort of access to the single market that people talk about... where that's been done for other countries, they have to accept the free movement rules without any say over those rules," the cabinet minister said.
Latest EU referendum opinion polls
| | | | | | |
| --- | --- | --- | --- | --- | --- |
| Date | Pollster | Remain | Leave | Undecided | Method |
| 16-19 Apr | ComRes | 51% | 40% | 9% | Telephone |
| 16-18 Apr | Ipsos MORI | 49% | 39% | 8% | Telephone |
| 15-17 Apr | ICM | 43% | 44% | 13% | Online |
| 13-17 Apr | ORB | 53% | 41% | 11% | Telephone |
| 12-14 Apr | YouGov | 40% | 39% | 16% | Online |
| 7-11 Apr | TNS | 35% | 35% | 30% | Online |
| 8-10 Apr | ICM | 42% | 45% | 12% | Online |
| 6-7 Apr | YouGov | 40% | 38% | 16% | Online |
| 29 Mar-4 Apr | YouGov | 39% | 38% | 18% | Online |
| 1 Apr–3 Apr | ICM | 44% | 43% | 13% | Online |
| 29 Mar–3 Apr | ORB | 51% | 44% | 5% | Telephone |