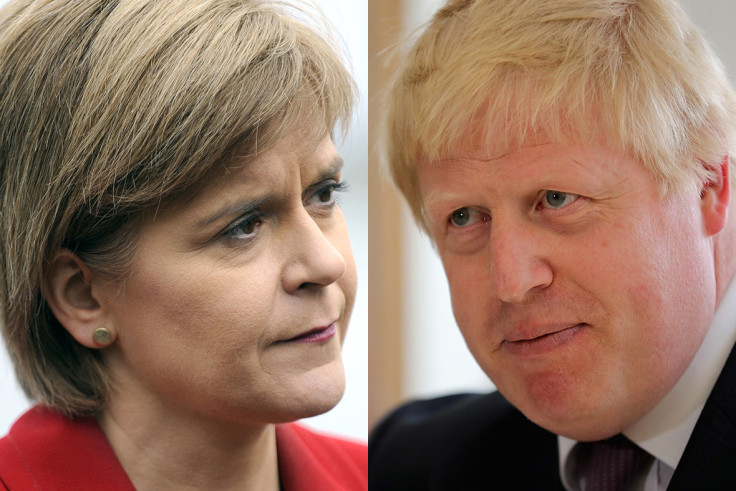 Boris Johnson came under heavy bombardment from the Remain camp during ITV's EU referendum debate on Thursday evening (9 June).
The two-hour show saw the former London Mayor and chief Brexit spokesman team up with German-born Labour MP, Gisela Stuart and fellow Conservative MP Andrea Leadsom MP. SNP leader Nicola Sturgeon, shadow business secretary Angela Eagle and energy secretary Amber Rudd were representing the Remain side.
Rudd continually attacked Johnson throughout the debate, suggesting that he was using the EU referendum campaign to bolster his leadership credentials. The senior Conservative later described him as the "life and soul of the party", but warned "you wouldn't want him to drive you home".
Likewise, Eagle urged Johnson to "take that lie off your bus" in relation to Vote Leave's contentious claim that the UK sends the EU £350m ($506m) per week, a figure which has been branded "potentially misleading" by the UK Statistics Authority.
Sturgeon also continually targeted Johnson, who has been touring Britain promoting Vote Leave, and she raised his record on workers' rights, claiming he wanted to relax labour relations.
The pro-EU campaigners consistently linked each issue, including immigration and the NHS, with the economy, stressing that nine out of 10 economists had warned against Brexit and claiming that Vote Leave had failed to outline what a post-Brexit UK economy would look like.
But Iain Duncan Smith, the former work and pensions secretary, hit back for Vote Leave in an interview with IBTimes UK straight after the debate. The senior Conservative MP accused the Remain team of resorting to ad hominem attacks.
"The contrast was stark – on the one side it was the usual old scare stories, but on top of that there was just personal abuse. And on our side it was positive, passionate, care for my country, real stuff about who should govern us – not about the person, but about the people," Duncan Smith argued.
"Gisela Stuart was fantastic, she said stop all of this nonsense about individuals, this is a debate about the British people and they get the chance to vote to control us, not to have unelected bureaucrats."
Lord Falconer, the shadow justice secretary, branded the Tory in-fighting as "brutal". But the pro-EU campaigner thought his team came out on top of the debate. "I thought it was worthwhile format because it really, really punished some arguments. For example, on the £350m there was real punishment that the Leave campaign couldn't get out of," the Labour peer told journalists.
SNP MP Stephen Gethins, party's Europe spokesman in Westminster, also spoke to IBTimes UK after the show. His leader, Nicola Sturgeon, came under fire from Johnson for standing side by side with "Project Fear", but Gethins argued that she had made a positive case for a Remain vote at the 23 June ballot.
"She got her messages across, crucially she got that positive, progressive message across the EU would be better for workers' rights and that it would be better for the environment as well," he said.
The debate comes exactly two weeks before the EU referendum polling day. Westminster watchers will be keeping a close eye on the opinion polls to see if the Remain campaign's decision to repeatedly attack Johnson paid off or even backfired.