The official Brexit campaign has put a pro-democracy argument at the front and centre of its campaign, with just over a fortnight to go before the EU referendum on 23 June. Boris Johnson, one of the main spokesmen for the Vote Leave group, warned that a Remain vote result would result in the UK bartering away its freedom and democracy to Brussels in a bid to secure economic gains via membership of the 28-nation-bloc.
"It is a myth and a delusion to think that we can somehow gain greater prosperity by bartering away our freedom and our democracy. In fact, we can see at every stage how the loss of democratic control is turning into an economic disaster," the top Conservative claimed on 6 June.
"There is nowhere else that is engaged in anything like this experiment, of trying to fuse countries into a giant political entity; and in its centralising tendencies the European project is going against the tide of events and history.
"The risks of remaining in this over-centralising, over-regulating job-destroying machine are becoming more and more obvious, which is why I believe we are winning the arguments today.
"It is time to take back control, and speak for freedom in Britain and around the whole of the EU."
Johnson made the pro-Leave address alongside Justice Secretary Michael Gove, German-born Labour MP Gisela Stuart and John Longworth, the former director-general of the British Chamber of Commerce. The Vote Leave campaigners spoke at a shampoo factory in the West Midlands market town of Stratford-upon-Avon.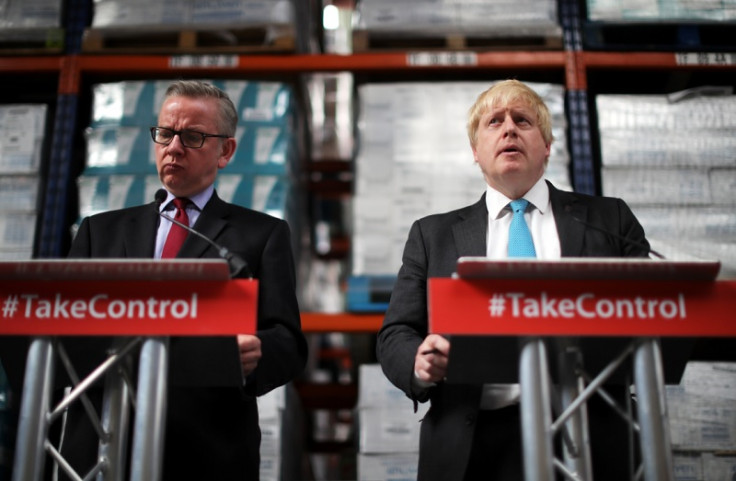 "No one can say we are not running the clean campaign," Johnson quipped, as he wrapped-up his speech. The comments come after Vote Leave put more emphasis on their anti-mass immigration messaging, which included a post-referendum pledge to introduce an Australian-style points system in the UK.
The change in tact seems to have paid dividends, with Leave leaping ahead of Remain in the latest opinion polls from YouGov, ICM and TNS. Meanwhile, David Cameron joined forces with Liberal Democrat leader Tim Farron, the Greens' Natalie Bennett and former interim Labour leader Harriet Harman to accuse Vote Leave of "con-tricks".
"It's time for Vote Leave to come clean about their economic plan for Britain outside Europe," the prime minister said. "By refusing to set out their vision, they are being undemocratic and reckless.
"Undemocratic, because it's the duty of anyone seeking votes to tell you what they're asking you to vote for – especially when it's on something as important as our economy.
"And reckless, because by failing to set out a concrete economic plan, they're playing with people's livelihoods. While they peddle fantasy politics, in the real world our economy is slowing because of the huge uncertainty hanging over Britain's economic future."