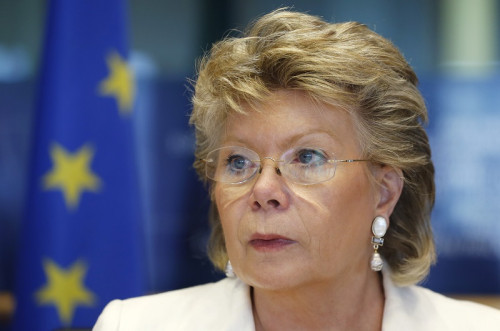 One of the most senior officials in the European Union has slammed the UK government for its immigration stance after claiming that ministers are "destroying the future" of Britain.
Viviane Reding, the vice-president of the European Commission, warned that the country's politicians had a whipped up a storm on the issue and claimed it was not true that there was "an invasion" of immigrants coming to the UK.
"Coming back to the subject which the government of the UK has pushed to the agenda, probably in order not to make people speak about the real subjects in the UK, are this supposed invasion of foreigners coming to the UK and stealing the jobs and stealing the social security and the health money," said Reding.
"The fact and figures, and we all know this, show it is simply not true and I do believe also that the British industry has made it very clear, putting the figures on the table and showing that the GDP of Britain rose by 3-4% because of the input of these working Europeans who come to Great Britain.
"I am mostly frustrated about the political leaders because what is leadership if you just try with populistic movements and populistic speech to gain votes?
"You are destroying the future of your people, actually. That is what I'm really worried upon."
The Luxembourg politician's comments follow Prime Minister David Cameron's crackdown on benefits available to migrants.
Cameron brought forward plans to tighten the country's welfare system for EU migrants as restrictions were lifted on Romanian and Bulgarian workers.
Now EU citizens must have lived in the UK for three months before they can claim out-of-work benefits, compared to several weeks as it stood before.
Benefits will also be removed from EU jobseekers who have "no job prospects", said the government, and there will be a year-long re-entry ban for deported migrants who could not find work.