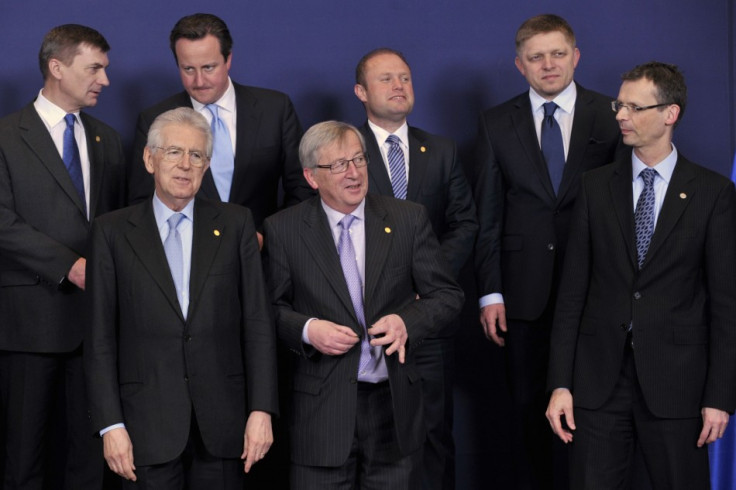 France and Italy have sought a growth-friendly interpretation of the European Union budget rules at the ongoing EU summit, while Germany advocated strict austerity measures to overcome the area's financial crisis.
In the summit, French President Francois Hollande asked for more flexibility in the budget targets set by the EU Commission. The crisis-laden country is expected to miss its budget deficit target in 2013.
Italian Prime Minister Mario Monti also argued for easing budget restraints as well as more public spending by his country and other EU members facing public finance pressures in order to create more jobs. It would be the last EU summit for the outgoing, technocrat prime minister of Italy, who secured only 10 percent of the votes in the February elections.
On the other hand, German Chancellor Angela Merkel was in favour of the austerity policies in the region and wanted Europe to focus more on budget discipline. She noted that "budget consolidation, structural reforms and growth are not in contradiction but are mutually reinforcing".
European Council President Herman Van Rompuy, who admitted "the mounting frustrations and even despair of the people", hinted more flexibility in budget rules. At the same time, he reaffirmed the need for sound government finances and creating more jobs.
"The possibilities offered by the EU's existing fiscal framework to balance productive public investment needs with fiscal discipline objectives can be exploited in the preventive arm of the Stability and Growth Pact," the summit conclusions noted.
As the member nations discussed issues of jobs, growth and spending cuts, thousands of people rallied outside the meeting venue against the spending cuts by governments that have hurt the job market.
The eurozone has been in recession for more than a year and the area's unemployment rate has reached at about 12 percent with some 26 million people remaining jobless across the 27-member EU.