EU referendum: 'We were wrong in interfering too much' says Jean-Claude Juncker as Brexit vote looms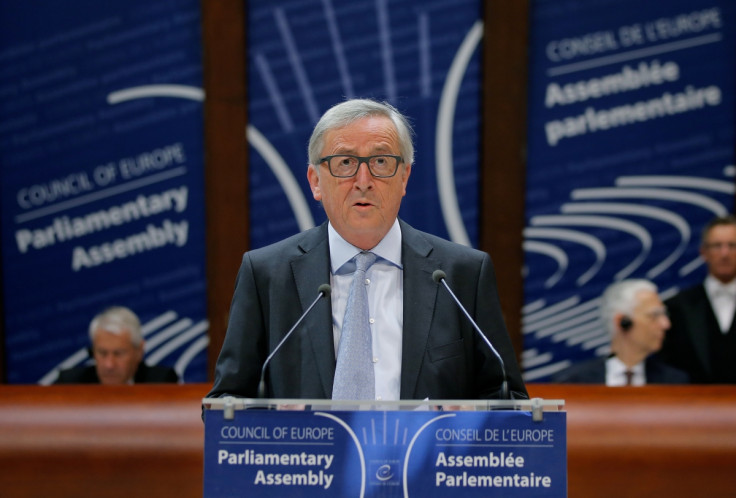 Too much interference in people's private lives is leading to growing scepticism of the EU from its citizens, the European Commission President has said. Jean-Claude Juncker conceded that the EU had passed laws which should have been left to national governments but warned that "people who want more national things at the expense of European principles" will find themselves defenceless.
During the parliamentary assembly of the Council of Europe in Strasbourg, France on 19 April, Juncker was quizzed about the future of the bloc by British lawmakers. When he was asked about increasing Euroscepticism by Conservative MP Nigel Evans, the EU chief said: "I think that one of the reasons that European citizens are stepping away from the European project is that we are interfering in too many domains of their private lives and too many domains where the member states are better placed to take action and pass legislation."
Juncker's blunt admission comes as campaigning for the EU referendum is underway ahead of the vote on 23 June. The latest online opinion poll from ICM, of more than 2,000 people between 15 and 17 April, put "leave" one point ahead of "remain" (44% versus 43%), with 13% of respondents undecided.
After Juncker became president in 2014, more than 80 proposals were dropped by the Commission – which is responsible for drafting EU law – in a bid to reduce red tape. "We were wrong in overregulating and interfering too much in the daily lives of our fellow citizens," said Juncker "But we would also be wrong if we insufficiently respected the principle of solidarity," he added.
Earlier this month, 61% of Dutch voters rejected closer ties with Ukraine in a non-binding referendum. Shortly after the vote, the country's government admitted it could not turn a blind eye to the resounding "no" on the EU's association treaty with Kiev.
Areas of meddling include decrees on cucumber curvature and the height of a hairdresser's heels, forcing Juncker to tell the 47-nation body which includes all 28 EU states: "We were wrong." The former Luxembourg prime minister also spoke of his vision for "a strong influential Europe" promoting European values around the world but admitted that the continent is losing economic clout and "facing very tough times. All our institutions are under immense pressure today and sometimes are really pushed to their limits," he said.
Reacting to Juncker's address, Prime Minister David Cameron's spokeswoman said: "What you have seen the President point out is the need for the European Union to focus on areas where it can add value and not over-interfere. That is something we have been calling for for a while."
© Copyright IBTimes 2023. All rights reserved.