After a big night celebrating and lamenting the Group of Death results, Holland made the solemn trip back to Krakow for training on Sunday, and it was obvious in their body language just how badly they wanted to make up for what had happened on Saturday night.
One of the beauties about the Euros, which is possibly somewhat not the same at the World Cup, is that every game is do or die and with maximum pressure attached.
For Holland, this couldn't be more true, with Denmark, Germany and Portugal all top 10 teams in the world according to FIFA rankings, and every side as deserving as each other of a quarter final place.
If Holland don't win their game against Germany, and Denmark win against Portugal, the side are looking at the very real possibility of going out in the first round of the tournament.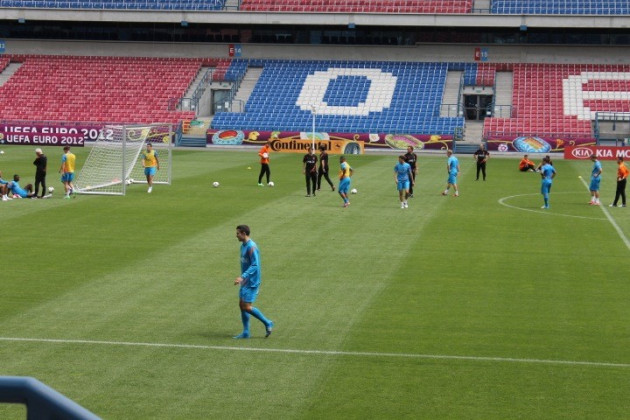 Robin van Persie was tipped by many to be top scorer, and with the striker currently sitting on zero goals, this isn't the moment where the excuse of 'give him time to adjust' will wash.
And his face on Sunday suggested that he is not happy about his current form, with only a few days to find that missing spark before the team are thrust before the trophy favourites on Wednesday.
Meanwhile, Italy were also training in Krakow today, and have many reasons to be a lot happier than their counterparts. After drawing with Spain, the side were in high spirits as they recover from the flight back and start to prepare for Croatia on Thursday.
Krakow has a strange atmosphere around it after England took off for their match in the Ukraine yesterday. While football fans are all around, the place has a much more local feel to that of Warsaw, with no games in sight and only locals and tourists who have chosen to see some culture on the side of the football experience.
With that in mind, tonight's match up between England and France will be a cracker for those back in London and across Poland who couldn't make it across to the Ukraine.
England fans are well known for their presence at every big tournament across the board, and tonight will no doubt be busy in Krakow's centre square despite the lack of live action in the town.