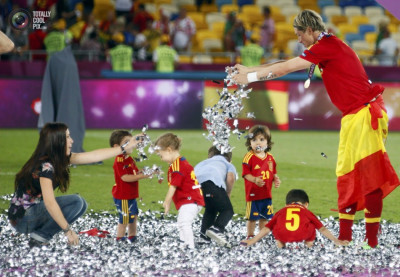 Spain were crowned Euro champion for the second time in a row following a sublime 4-0 win over Italy at the Olympic Stadium in Kiev.
After the final whistle was blown, many of the players paraded with the trophy on the pitch with members of their family and young children, resulting in these heartwarming pictures being seen around the world.
The historic victory meant Spain became the first European national team to win three major tournaments in a row, having won Euro 2008, the 2010 World Cup and now Euro 2012.
Goals from David Silva, Jordi Alba, Fernando Torres and substitute Juan Mata sealed victory for the Spaniards, with many now calling this current crop of players as the greatest team to have ever existed.
As well as a historic night for the team, some of the Spanish players had their own personal reasons to celebrate following their triumph.
Torres' 84th minute goal and the assist for Mata four minutes later meant he was awarded the Golden Boot, overtaking Germany's Mario Gomez as he played less minutes throughout the tournament than the Bayern Munich striker.
Goalkeeper Iker Casillas, who equalled Holland's Edwin van der Sar's record of nine clean sheets at the Euros after the final, became the first player to have won 100 hundred international matches.
Barcelona's Andreas Inestia was also awarded the player of the tournament after yet another outstanding display from midfielder general.
Silva opened the scoring with 14th minute header off a pass from brilliant cross from Fabregas, with Alba added another in the 41st, picking off from a near-perfect through ball from the passing master Xavi and shooting past Buffon.
After dominating the first half with their famous 'tiki-taka' style of passing which they have become synonymous for, Spain were able to control the second half more following the injury to Thiago Motta.
As Italy had used all their subs, they were forced to play the remaining half an hour with 10 men, making a hard task of reducing the deficit even harder for the Italians.
Torres, who came on for Fabregas in the 75th minute, then added the third goal with a relatively easy finish and Mata really put the game away in the 88th, knocking in a pass from Torres having just come on as a substitue.
Italy goalkeeper Gianluigi Buffon said after the game: "Tonight, there was no contest.
"They were too superior, so the bitterness at losing this final is only relative."