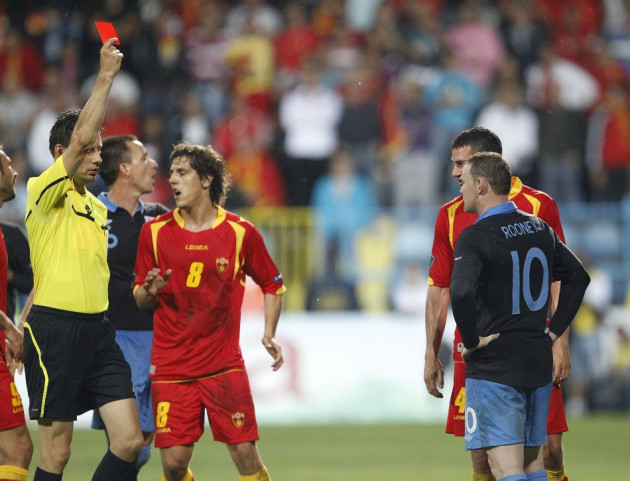 Wayne Rooney will not start another game for England before next summer's Euro 2012 Championships following the striker's red card in Montenegro Friday.
Fabio Capello issued a stark warning to the Manchester United forward in the wake of Friday's 2-2 draw in Podgorica, saying he "will not play" in next month's friendly against Spain and is unlikely to feature in Engand's remaining warm-up fixtures.
Friday's result secured England's passage to next summer's tournament in Poland and Ukraine but Rooney's dismissal means Capello must prepare for the opening game, and possibly the second depending on next month's UEFA disciplinary meeting, without his key forward.
"Without the sending-off of Rooney we would have won," the manager said as he discussed the sixth red card of Rooney's short career.
"Sometimes he will come on at half-time. But not from the start; he will not start. We need to prepare the first XI who will start in the Euros. He will be fresh."
The Italian stressed that Rooney remained an intrinsic member of the England set-up but warned the striker that he could not expect to walk straight back into the first XI after his suspension.
"I need to find the solution for the first game, or two games, that Rooney will not play," said Capello. "And if we find that solution, he needs to work to return to the first 11.
"You know me. Sometimes I make mistakes but I try to select the best players, in the best moment of form. There were two I did not select for this game who are doing really well. I saw the game that [Jermain] Defoe played against Arsenal. He did really well. He ran a lot and pressed a lot. Daniel Sturridge is the same."
Rooney will feature only as a substitute in the run-up to the tournament as Capello looks to test new players and tactical arrangements in Engand's remaining matches.
"Rooney will not play against Spain. I want to test new players, a new style and different movement," added Capello. "Sometimes he will come on at half-time. But not from the start. He will not start. We need to prepare the first XI who will start in the Euros.
"I have got a lot of forwards at the moment, really good forwards, and I need to find the best solution. In my life as a manager I have put on the bench a lot of players. I always decided who was the best player at the moment."
After the match against Spain, England are likely to have two more games, one against Holland and one against Portugal, before the squad for the Finals needs to be finalised.
"We've got something good," he said. "And don't forget, we have some very good, important players, who are injured or not on top form. [Jack] Wilshire is an important player. Steven Gerrard is another. Now we have [Gary] Cahill and [Phil] Jones. [Kyle] Walker, [Michah] Richards too. And Danny Welbeck is potentially a really good player."