Polish football fans are not planning to add to the violence that has so far marred the Euro 2016 tournament in France ahead of the team's crucial game against rivals Germany on Thursday (16 June 2016) and the presence of Russian Ultras – the violent gangs behind much of the incidents that took place over the championship's opening weekend.
Fans travelling to France via London's Eurostar terminal said they are not worried by the Russian fans who targeted England supporters in their opening match in Marseille despite the previous violence between the two sets of fans prior to their Euro 2012 game.
Poland and Russian have had a history going back centuries as a result of previous conflict and Soviet rule. Nearly 200 fans from both sides were arrested as thousands of Russians marched the Polish capital of Warsaw during a pre-organised Russian day celebration in June 2012.
Despite this, supporters described their frustration at Russian being the controversial host at the 2018 World Cup despite their problems with hooligans, but are not hoping to repeat the ugly scenes. One supporter travelling to the game told IBTimes UK: "They [Russians] came to Poland in 2012, they lost their fight then they left the next day. We are not worried about them. [But] in two years, the whole world will be travelling to Russia to be targeted by the hooligans."
Discussing a potential clash with German fans following their rivalry dating back to the Second World War, one fan, Kornel, said he had heard rumours of around "300 fans hoping to cause trouble", but that he was not worried about. In a good-natured attack on their rivals, his friend Pete added: "German fans are pussies, 300 not enough anyway [for us two]."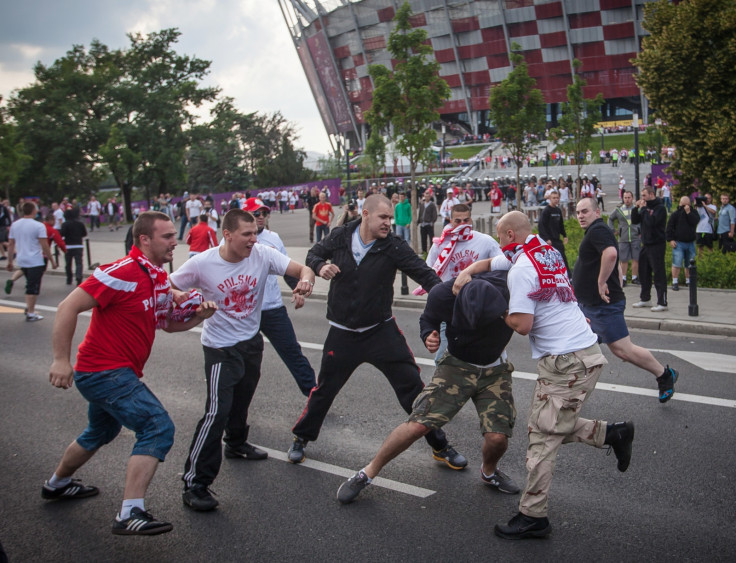 Both Poland are Germany would look certain to qualify for the last 16 with a win in the second match of their Group C game in Paris' Stade de France stadium. However, Poland have only ever better Germany once when they beat the recently crowned world champions 2-0 in September 2014. When asked for his predictions for the game, Pter said confidently: "1-0 Poland, of course."
Police played down fears any England supports may be travelling to France for the purpose of causing trouble follow the horrific scenes in which 36 fans were arrested in Lille as they clashed with riot police. Speaking on the morning of the match against Wales, a spokesperson told IBTimes UK: "If I'm honest, we've only seen a handful of England fans today compared with several thousand yesterday [Wednesday 15 June]. Even if they turned up now, they will end up missing the match so it doesn't look like we have any troublemakers coming down"