Following scuffles in Lille involving English and Welsh fans facing off against so-called "Russian Ultras", the city returned to friendlier scenes on 14 June as supporters enjoyed drinking and singing ahead of the Euro 2016 group stage clash between Slovakia and Russia.
As Russia hopes to take a step towards qualification for the knockout stages, police presence has been beefed up with a very small– but very visible – number of visiting Russian and Slovakian police officers supporting the French gendarmes.
IBTimes UK spoke to several groups of both Slovakia and Russian fans who had gathered for pre-drinks before their match later this afternoon. With fans friendly and all smiles, the ones we spoke to were confident they would not see any fighting in the streets today.
Most laid the blame for recent violence on a "minority of hooligans", with many saying England supporters were probably more responsible than Russians. Miro Jablonicky, from Bratislava, was in the square adjacent to Gare de Lille last night where the fights unravelled.
"What happened last night – I think the English fans were to blame. The English media has twisted things. They were shouting things like 'f**k off Russia', and were kicking a football in the square and laughing when it hit people. The Russian fans I've met have been great – we will never fight them, they are our friends," said Jablonicky.
Marian, a Slovakia supporter, said: "We are looking forward to meeting our Russian friends. English fans drink a lot, so they become rude. They were not polite during the Russia national anthem on Saturday. They were booing."
A Russian supporter, Victor Ni, from Moscow, was drinking in the exact spot where a fan was pictured lying on the floor, apparently knocked unconscious, following last night's clashes. "To be honest, probably both Russian and English fans were to blame. But I think English fans are more violent. In Marseille, they were drunk and throwing bottles near the stadium."
Mario, from Slovakia, added: "Slovakia and Russia are friendly. Most here in Lille are just football fans, not hooligans. We're not expecting any trouble. We'll watch the match, and then perhaps go with our Russian friends for a beer... and some vodka."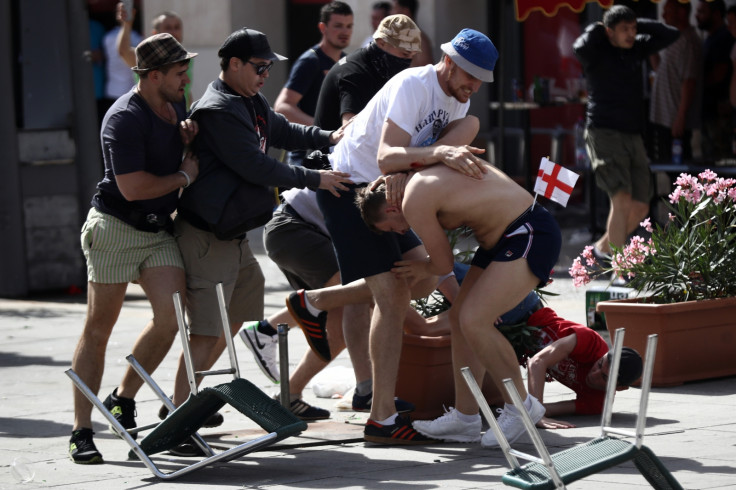 Western media bias
One 22-year-old Russian "Ultra" fan, from Moscow, told IBTimes UK the "Western media" had distorted what had happened in Marseille. Wanting to be known only as "Gregory", he was busy marking territory by plastering Ultra stickers on Lille street signs in areas where fans were congregating on Wednesday morning.
"I was there in Marseille when all the trouble started. There were many, many fights. The English were being provocative. They were loud, drunk, singing offensive songs, throwing bottles. They were horrible."
When asked if he was involved in the fighting, he replied: "No comment".
Gregory says the Ultra culture has been misunderstood in recent British press reports. "We don't come looking for fights, but we're prepared if the trouble comes to us. We are good guys. We want a normal atmosphere.
"The Western press has portrayed stereotypes. I've read we are agents sent by Putin, that we're special forces. It's stupid."
He was also asked about the mouth guards, martial arts gloves and makeshift weapons some Russian Ultra fans were seen wearing in Marseille during three days of clashes with England fans.
"They brought that for self-defence," he said. "You have to realise, Russians had heard about England fans, they knew there were going to be far bigger numbers of them than Russians."
His departing comments, however, suggested the violent culture surrounding this minority of fans had not been entirely overstated.
"Violence is a normal part of football in Russia. It's like a sport for us. Many Ultras train in boxing gyms. But we're all good guys."