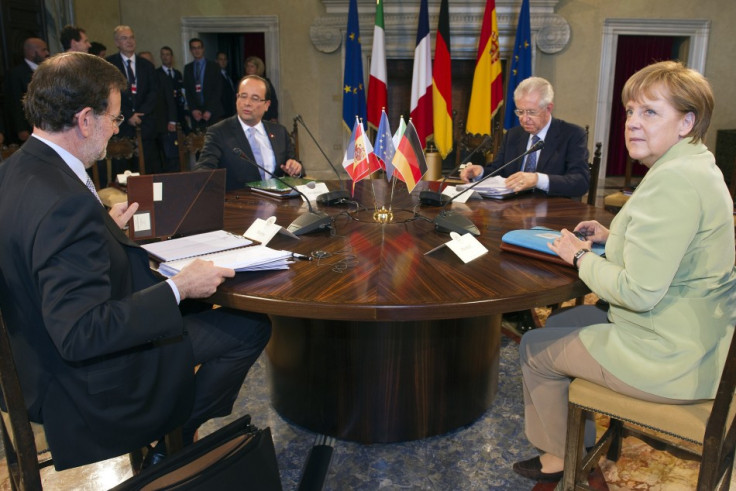 German Chancellor Angela Merkel defied the pressures of the rest of European leaders to agree on common eurozone bonds which could directly inject money to ailing banks.
The leaders of Germany, France, Italy and Spain met in Rome on Friday to discuss ways to restore confidence in the eurozone ahead of a full EU summit from 28-29 June.
With Germany's reluctance to concede the demands of banking integration, the French are reportedly not going to accept the EU budget discipline pact that was agreed previously, making the forthcoming European Union (EU) Summit a tough call.
However, despite the disagreement on euro bonds, Merkel agreed with leaders of France, Italy and Spain on a package of 130bn euros (£104.85bn) to spur growth in the euro region.
"Growth can only have solid roots if there is fiscal discipline, but fiscal discipline can be maintained only if there is growth and job creation," Italian Prime Minister Mario Monti told a joint news conference at the conclusion of the four-way talks in Rome.
Meanwhile, Germany's reluctance to agree on mutualising the eurozone debt, previous or future, did not in any way please the other leaders.
French President Francois Hollande even voiced his concern and said it should not take 10 years to create jointly underwritten euro bonds, according to a Reuters report.
"I consider euro bonds to be an option but not in 10 years. There can be no transfer of sovereignty if there is not an improvement in solidarity," Reuters quoted Hollande as saying.
Earlier, International Monetary Fund (IMF) chief Christine Lagarde requested eurozone leaders to allow direct aid to ailing banks and economies to save them from plunging into further economic chaos.
But the German chancellor's reluctance to the idea was clear from her words: "If I simply gave money to a Spanish bank, or other bank I can't say what that bank should change, because I'm not responsible. I'm the German chancellor, I can only say that to my banks."
"We set up the EFSF and the ESM under such conditions and that's how we are going to continue," reiterated Merkel proposing that euro treaties suggest strict control mechanisms along with lending. "Liability and control belong together," said Merkel.
Germany is the major contributor to the European Financial Stability Facility (EFSF) and its 500bn euro ($627bn) successor, the European Stability Mechanism (ESM).
However, the four leaders agreed to go ahead with the "Tobin Tax," a tax on financial transactions despite the disagreement of some of their European partners on the issue.