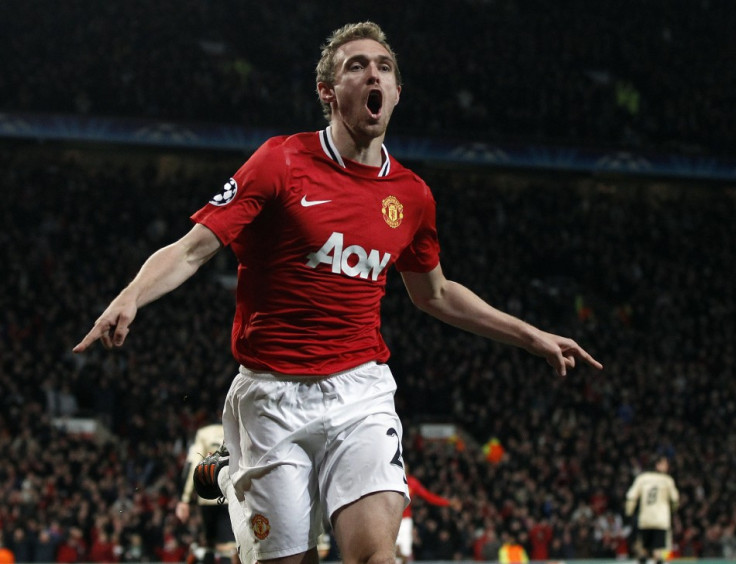 Manchester United midfielder Darren Fletcher claims no one in the Champions League would relish being drawn against the defending Premier League champions should they fail to finish top of their group.
The Red Devils have flattered to deceive in Europe's premier competition thus far, toiling in Group C to such an extent Manchester United, the finalists in three of the last four years, could yet crash out of the Champions League.
Manchester United must avoid defeat against Basle in Switzerland in a fortnight in order to qualify for the knockout stages, but they are likely to do so in second place, assuming Benfica beat minnows Otelul Galati.
Despite the prospect of having to face one of Barcelona, Real Madrid, Inter Milan or Bayern Munich should they successfully negotiate their passage through the group stages, Darren Fletcher believes none of the aforementioned European juggernauts would relish a tie against Manchester United given their record in the competition.
Fletcher acknowledges Manchester United have done things the hard way in a group that looked comfortable on paper, but is confident Sir Alex Ferguson has enough at his disposal to cause any side trouble.
"It's not ideal that we might have to face those sides earlier than we would anticipate, but I can't imagine any of those sides being too pleased to draw Manchester United," The Old Trafford star told The Times. "We're confident no matter who we play against and no matter what lies ahead of us in the future in this competition.
"If we get to the next round, we'll rise to that challenge."
The Manchester United midfielder believes the club have illustrated their steely resolve since their humbling 6-1 defeat to Manchester City, but on Tuesday night he concedes they perhaps struggled to find a balance between attacking and defending. Fletcher believes it is imperative they strike the correct cord going forward because thus far this season he believes it has been a difficult balancing act.
"Since the Man City game, we hadn't conceded in five before the Benfica game," The Scottish international, who scored United's second goal on Tuesday, said.
"The performance level [on Tuesday] was good. We created chances but we need to get the fine balance of not conceding [while] getting back to the attacking play we showed at the beginning of the season, when we were open and were conceding chances even though we were playing good football.
"As we go forward now it's important that we get the right balance, which will ultimately help us [throughout] the season.
"Going away from home in the Champions League is a big challenge. [Basle] play good, open, attacking, expansive football and they create chances, so we know it's going to be a difficult match, but we're confident of going there and getting a result, like in every match.
"You want to have won the group and you want to have qualified in advance of your last game. But we're in the situation we are and we've got to deal with that. There's no point us moaning or saying what could have been.
"This is the situation we're in and we've got to respond, and we've got to get the right result in Basle."