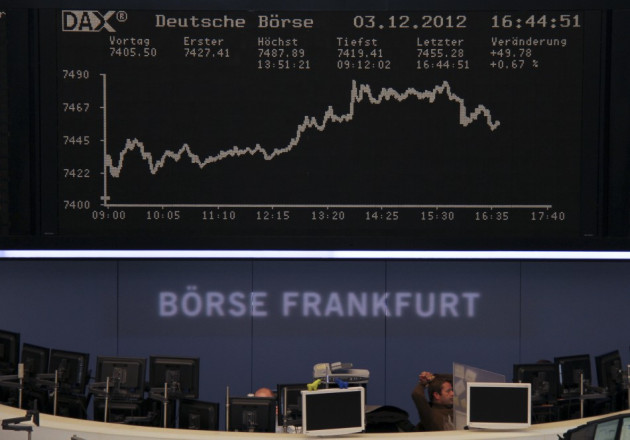 European stocks eased in the early minutes of trading as concerns on the US economy overshadowed hopes of improvement in the eurozone after Greek bond buyback plans and aid for Spanish lenders.
Europe's FTSEurofirst 300 eased 0.1 to 1120.15 points while Britain's FTSE 100 slipped 0.2 percent. Italy's FTSE MIB and France's CAC-40 remained little changed while Germany's DAX was down 0.1 percent. Spain's IBEX fell 0.2 percent.
Asian markets ended mixed earlier, amid concerns of the looming 'fiscal cliff' and signs of growth in China.
Japan's Nikkei ended 0.27 percent lower to 9,432.46 while South Korea's KOSPI dropped 0.25 percent to 1935.18. China's Shanghai Composite Index gained 0.78 percent to 1975.14 while Hong Kong's Hang Seng was up 0.15 percent to 21801.25.
The negotiations on the proposed spending cuts and tax hikes in the US continued to weigh on investor sentiments. The deadlock among lawmakers continued after the White House dismissed a Republican proposal, claiming that it did not offer anything new.
Data from the US Institute of Supply Management (ISM) showed that manufacturing activity in the world's largest economy contracted in the month of November. The index dropped to 49.5 in November, down from economist expectations. The Wall Street had ended the previous session lower following the release.
The weak US data weighed the Dollar down against the Yen, pushing exporter stocks lower.
The European markets had turned cautious on the US economy yesterday after Greece announced a massive offer to reduce almost half of its debt to its lenders. Athens plans to spend up to €10 bn in a bond buyback scheme as part of its efforts to reform the country's embattled economy. Sentiments were boosted further after eurozone finance ministers approved €39.5bn in monetary aid to Spanish banks.
Meanwhile, the Reserve Bank of Australia (RBA) slashed its interest rates to the lowest point since the global financial crisis as a slump in the mining sector threatened to affect the economy. The country has been affected by uncertainties in US and Europe, and the slowdown in its biggest export market, China.
Major Movers in Asia
Currency-sensitive stocks dropped in Tokyo after the Dollar weakened against the Yen. Shares of Nissan fell 3.72 while those of Nikon and Hitachi were down 3.08 and 1.89 percent.
Shares of Sharp were up 1.16 percent following reports of the firm's plans to join Qualcomm to manufacture an energy-efficient smartphone LCD panel.
Exporters dropped in Seoul as well. Automobile major Hyundai dropped 0.22 percent while Kia was down 0.48 percent. LG Electronics ended 1.81 percent lower.
Chinese automobile stocks ended higher. Guangzhou Automobile Group was up 7.78 percent while Shenyang Jinbei Automotive Company gained 10.03 percent.