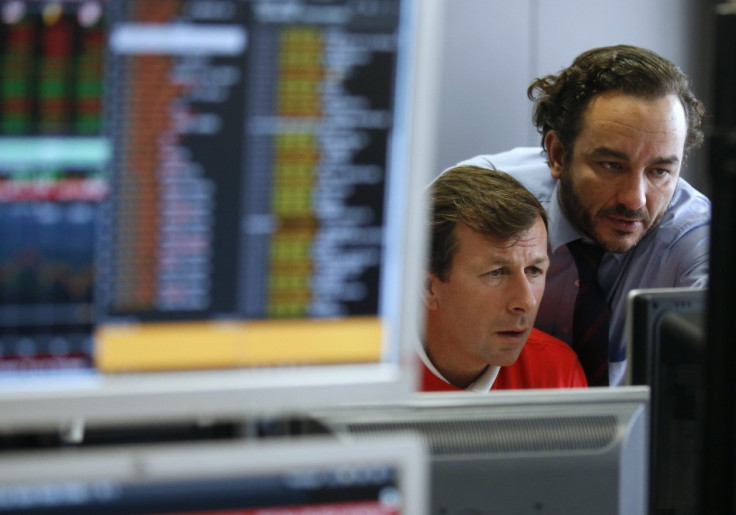 European stocks eased in the opening minutes of trade following Asian market sentiments, as investors awaited Chinese Gross Domestic product (GDP) figures and US corporate earnings.
The UK's FTSE 100 eased 0.1 percent, weighed down by Rio Tinto, which dropped 4.5 percent following reports its CEO was sacked after an unexpected writedown.
Italy's FTSE MIB and Spain's IBEX slipped 0.1 percent each. In Germany, the DAX fell 0.2 percent while France's CAC-40 remained little changed.
The FTSEurofirst 300 index covering the region's top shares fell 0.1 percent to 1,159.00.
The single currency weakened moderately against the dollar, trading at about $1.32.
Most Asian markets had closed lower earlier, with Japanese stocks swinging between gains and losses as the yen firmed against the dollar.
The Nikkei closed 0.09 higher to 10609.64 while South Korea's KOSPI finished 0.16 percent lower at 1974.27. Australia's S&P/ASX 200 increased 0.38 percent to 4756.60.
In China, the Shanghai Composite Index slipped 1.06 percent to end at 2284.91. Hong Kong's Hang Seng fell 0.12 percent to 23327.90 towards close.
Chinese fourth-quarter Gross Domestic Product (GDP) figures are set for release this week, amid speculation that the world's largest economy has expanded as much as 8 percent. Growth in the Communist nation slowed to 7.4 in the third quarter, raising global economic concerns.
Recent indicators, including improved industrial figures and unexpectedly high export rates, have pointed to a robust Chinese growth rebound. Considering the recent government initiatives to boost the economy, analysts, including those from the World Bank, estimate the country has put the worst of its financial woes behind.
US earnings season remains in the spotlight, as investors await corporate earnings reports from major firms such as Citigroup, Intel, Bank of America and BlackRock. Earlier financial majors JP Morgan and Goldman Sachs had reported earnings that beat expectations.
Eurozone debt crisis issues returned to focus as the International Monetary Fund (IMF) approved the next tranche of bailout funds to Greece, after the embattled nation took up bond repurchase measures and managed to pass stiff austerity measures.
Releasing the €3.24bn aid, IMF managing director Christine Lagarde noted that the bailout scheme was moving in the right direction. But she urged Athens to take up more measures to strengthen the economy.
"Forceful structural reforms and broad-based domestic support will be needed to meet challenges, alongside long-term support from Greece's European partners," Lagarde said.
Spain is holding its bond auction during the day, with hopes of higher demand and lower yields on the back of healthy investor sentiments towards the embattled southern European economies. The Treasury aims to collect up to €4.5bn in bonds that are set to mature in 2015, 2018 and 2041.
In Asia, Japanese traders are awaiting the Bank of Japan's (BoJ's) policy meet set for later this week, with hopes that the central bank will take up stimulus steps to boost the economy. BoJ is under considerable political pressure to ease its monetary policy after the pro-stimulus Liberal Democratic Party (LDP) came to power with a landslide electoral triumph in December.
Hopes of such measures had weighed the yen to multi-month lows against the dollar in the recent weeks, cheering markets but also sparking concerns on rising import costs.