Eurosceptic sentiment across the continent has never been higher. On the back of the UK voting to leave the EU, the Brussels elite now also have to contend with widespread discontent among populations of the EU's founding members.
The Five Star Movement in Italy, which recently won in 19 of the 20 cities it contested in July's elections, is currently seeking a referendum on Euro-membership. In the Netherlands, Geert Wilders' hardline Eurosceptic Party for Freedom has an astonishing 13 percentage point lead, according to the most recent poll commissioned by Peil.nl. And even in France, Pew Research finds that only 38% of people currently view the EU favourably. Here are some issues to consider when addressing voter concern.
If the EU wants to survive in this new political environment, it cannot be business as usual. Issues associated with the freedom of movement, in particular, cannot be ignored. This is one of the EU's founding principles, meaning that radical change is unlikely to emerge. However, legitimate concerns about the scale of migratory flows cannot sidestepped. Nor can worries about the implications of large movements of people from candidate countries such as Turkey – where GDP per capita is roughly half of the Euro-area average – continue to be dismissed.
The disintegration of Europe's external border has also led to major public concerns regarding whether freedom of movement can be sustained in the long run. Europe must offer sanctuary to those in need, but around 60% of undocumented arrivals in Europe have no reason to apply for refugee status, according to Vice President of the European Commission Frans Timmermans. If the EU wants to gain the public's trust on migration, it needs urgently to get a grip on the situation.
For too long, Mediterranean countries on the border of Europe have been left to deal with the unfolding migration crisis. For example, in 2013 the Italian Government launched Operation Mare Nostrum to tackle the growing migration crisis in the Mediterranean Sea, but were not offered any financial assistance by other member states. There are also huge problems with Frontex, the EU-wide body entrusted to guard Europe's external border. Its resources are currently dependent on pledges from individual countries that often fail to materialise, and the organisation currently needs permission from member states before operating.
There needs to be a fundamental rethink in how Europe secures its external borders. This is a responsibility that must lie with all of the EU's member states. Resource contributions to Frontex must become mandatory and the organisation should be given powers to intervene in high-risk areas. If Frontex is given the resources and powers to secure the Schengen border, Europe can help the most vulnerable refugees by processing asylum claims offshore, meaning that they no longer have to make perilous journeys to Europe. It would also offer much needed assurance to the European public – given that this system would stop hundreds of thousands more undocumented migrants without refugee claims entering Europe.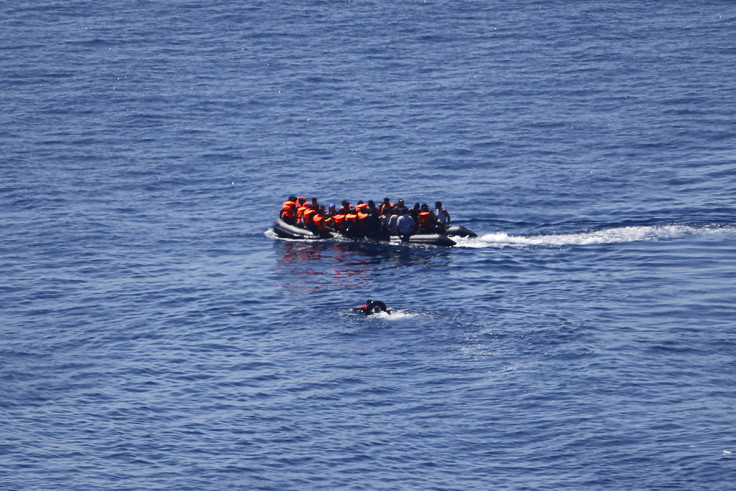 However, dealing with immigration concerns cannot be viewed as a silver bullet in stopping the rise of Euroscepticism across the continent. There is a desperate need for a credible plan for economic growth. In particular, the EU needs to pursue an unashamedly pro-trade position, whereby barriers to movement of goods and services are further broken down and job creation is boosted across the block.
There are enormous opportunities for more trade within the EU via the single market, but the single market is failing to fulfil its purpose in services. Services make up 70% of Europe's economies and generate more than 90% of new jobs, yet services account for just 20% of intra-EU trade.
Non-competitive services markets are the most significant driver of the EU's productivity gap with the US, according to the UK's Department for Business, Innovation and Skills. The EU must now seek to further complete the single market in services by enforcing the current Services Directive more stringently, so businesses and consumers can buy and sell services across borders with greater ease.
Of course, new trading opportunities could come from outside the EU, too. Non-tariff barriers to the US, for example, act as a major barrier to trade. The US and EU account for 35% of global sales in the automotive industry, yet non-tariff barriers seem to be stifling growth opportunities for this sector.
Trade distorting regulatory technical barriers such as some technical regulations and procedures for testing vehicles represent a 26% cost for the EU and US, highlighting the potential economic gains that trade agreements such as the Transatlantic Trade and Investment Partnership could bring to Europe. Negotiators should, however, ensure that they encourage 'mutual recognition' of standards rather than seeking to harmonise standards that could impose regulatory costs onto EU businesses.
From where we stand, TTIP is more than a free-trade agreement between the US and EU. It is a geopolitical and economic necessity for both entities to revitalize their economies after the financial crisis that struck both sides of the Atlantic in 2008, and it is a unique opportunity for the US and the EU to increase their economic and geopolitical power.
Globalisation does not wait, and nor does innovation nor competitiveness. And no country can stand in the shadows of their development any more. They all need to keep the pace and evolve to more innovative markets and economies. That is why TTIP is so crucial at the moment. The Atlantic Council affirms that "beyond pure economics, TTIP also represents a key strategic opportunity for the EU and US. A truly ambitious game-changing agreement has the potential to send a powerful message to the rest of the world regarding transatlantic commitment to the development of global rules and standards".
It would appear that Euroscepticism across the continent is here to stay for the foreseeable future. To counter this growing discontentment, the EU's leaders need to address people's legitimate concerns and promote economic prosperity by further promoting trade opportunities. Failure to do this would lead to an unravelling of the EU project, resulting in decades of uncertainty and economic stagnation for the continent of Europe.
---
The Belem Circle (a group of European economists writing on European issues): Stefano Adamo, Pierre Bentata, Nicolas Bouzou, Eline van den Broek, Daniel Mahoney, Joseph Montag
---