The wait is finally over as Europe gears up for the 62<sup>nd edition of Eurovision Song Contest, which will be held at the International Exhibition Centre in Kiev, Ukraine.
The UK will be counting on Lucie Jones to break its 20-year-curse and bring home the trophy (a classic microphone made of solid glass).
After two semi-finals that were held on Wednesday (10 May) and Friday (12 May), 26 acts – including the 'big five' France, Germany, Italy, Spain and United Kingdom and host country, Ukraine – have been selected for the grand finale.
The much-awaited extravagant event will be hosted by Ukraine's favourite show hosts, Oleksandr Skichko, Volodymyr Ostapchuk and Timur Miroshnychenko.
Where to watch it live:
The glittering musical night will start at 9pm CEST. Viewers can watch the song competition live stream online on Eurovision.tv and the contest's official YouTube channel.
Watch the live stream below:
Eurovision experimented with the YouTube live streaming in 2015, and the following year the competition became the third largest music live stream on the video platform. The live streaming of the competition, however, will not be available in United States, Canada, Taiwan, South Korea and Brazil due to 'rights technicalities'.
It's been 20 years since the UK has won the Eurovision contest. The last time the country received the trophy was in 1997, when Katrina and the Waves made headlines with their astounding performance with Love Shine a Light.
Jones, 25, however, is not feeling the pressure and says she is "not too worried about the outcome". "What I'm hearing from home is that people are proud of what we're doing, and that for me is such a win," she told The Telegraph. "I just don't want to come last, really. If we get no points I'll be disappointed, but anything else is going to be a win. All I've got to do is not go on and fall flat on my face, and hit a bum note. I'm hearing from home is that people are proud of what we're doing, and that for me is such a win."
Below is the running order of the Grand Finale of the 2017 Eurovision Song Contest: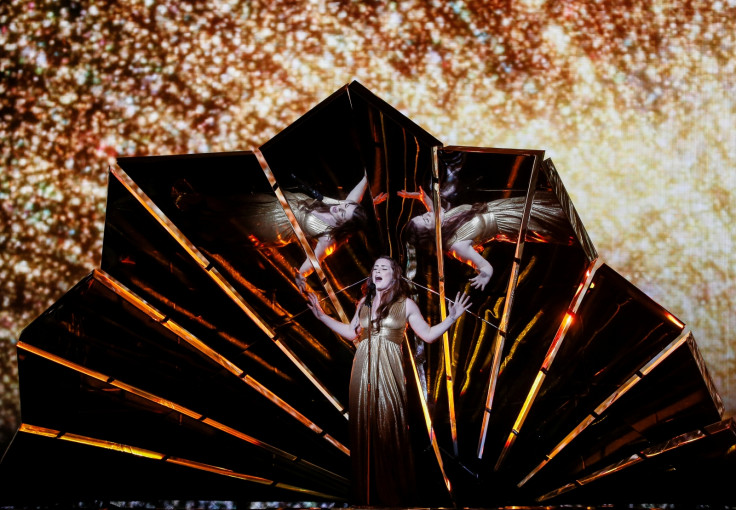 1. Israel
2. Poland
3. Belarus
4. Austria
5. Armenia
6. The Netherlands
7. Moldova
8. Hungary
9. Italy
10. Denmark
11. Portugal
12. Azerbaijan
13. Croatia
14. Australia
15. Greece
16. Spain
17. Norway
18. United Kingdom
19. Cyprus
20. Romania
21. Germany
22. Ukraine
23. Belgium
24. Sweden
25. Bulgaria
26. France