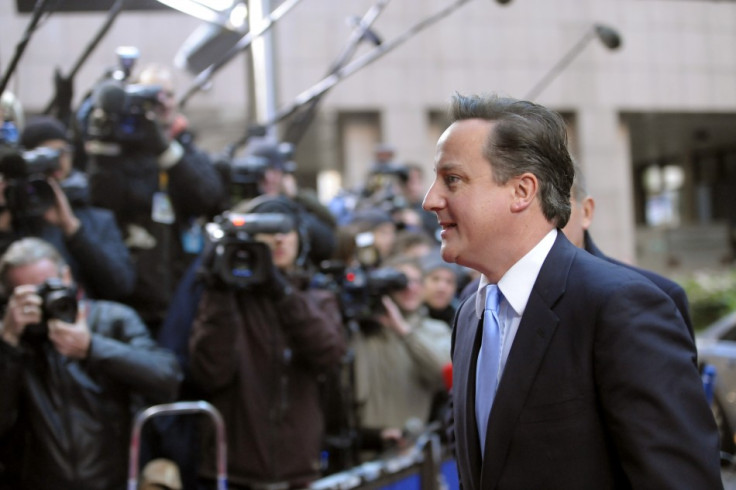 British Prime Minister David Cameron looks set to take advantage of the emerging divisions among some EU member states, amid the fallout of the European summit in Brussels last week.
Britain, only a week ago seen as "isolated" with Europe, is keen to heal some of the scars left by the summit, which has severely strained relations with France and other eurozone countries.
But Cameron will look to make connections with eurozone countries and embark on "technical discussions" for new arrangements to govern their economies.
In a bold move - agreed Thursday night in a telephone call between Cameron and the president of the European Council, Herman von Rompuy - it is likely to be seen as an olive branch both to the other EU countries and his Liberal Democrat coalition partners.
In recent days, the prime minister has spoken to his counterparts in non-euro states Denmark, Sweden and the Czech Republic, all of which are said to have concerns about the compact, as well as with Enda Kenny of eurozone member Ireland, who has warned he may have to put it to a referendum.
"He has been speaking to a number of different European leaders in recent days and will continue to do so in the coming days, with the objective in mind of making clear that we want to engage constructively," said the spokesman.
Nevertheless, cracks appeared to be emerging in the group of 26 when Hungary and the Czech Republic said they would not join the new agreement unless plans for tax harmonisation were dropped.
Neither country uses the euro and both said in Brussels last week that they would consult their parliaments before deciding whether to sign up.
A No. 10 spokesman said: "The prime minister reiterated that he wants the new fiscal agreement to succeed, and to find the right way forward that ensures the EU institutions fulfill their role as guardian of the EU treaty on issues such as the single market. That's why we have today agreed to participate in technical discussions to take forward this work."
The head of the International Monetary Fund, Christine Lagarde, warned Thursday night that Europe's debt crisis could not be solved by Europe alone and called on all countries to work together to avoid a 1930s-style depression.
"It's not a crisis that will be resolved by one group of countries taking action," she said in Washington. "It's going to be hopefully resolved by all countries, all regions, all categories of countries actually taking action."