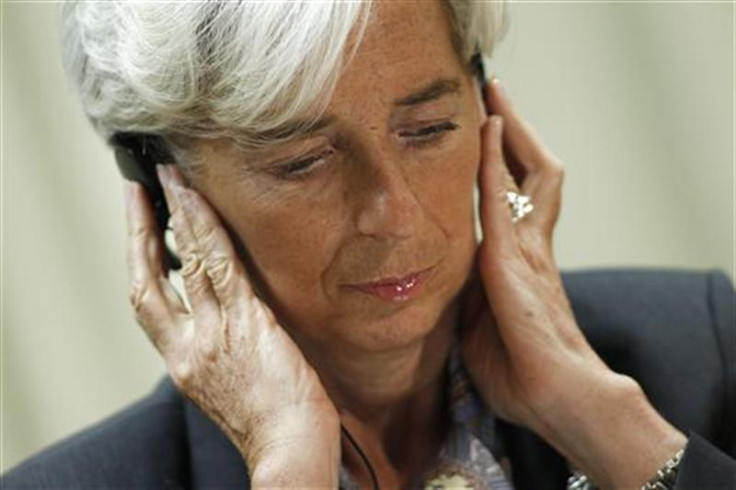 The International Monetary Fund (IMF) has warned the eurozone is in serious risk of spreading its toxic economy worldwide unless it is dealt with "decisively" and a "consistent policy is put into action."
Chief of the IMF, Christine Lagarde, said: "While these markets have been quite resilient to shocks and developments in major economies in the past year, recent indicators have weakened significantly and the general business climate has deteriorated."
The economic organisation drastically cut its estimates for growth in 2012 by 20 percent ahead of what it believes will be a "1930s moment" for the rest of this year.
The UK saw its economic growth forecasts slashed by the IMF but suggested that its economy will still outperform its struggling neighbours in the eurozone.
Britain is expected to grow at just 0.6 percent, down from previous forecasts of 1.6 percent and grow 2 percent in 2013, down from 2.4 percent as "intensifying strains" in the euro area drag on the rest of the world.
The IMF said the greatest challenge was putting "an end to the crisis in the euro area by supporting growth" while restoring public finance balance sheets and sustaining economic recovery.
The UK is still expected to outperform Germany and France in 2012, which are expected to grow by 0.3 percent and 0.2 percent respectively, but will fall behind the US and Japan, which are expected to grow 1.8 percent and 1.7 percent apiece.
The significant downward revision to forecasts in the euro comes as the cost of financing sovereign debt surges and eurozone governments try to clamp down on spending, the IMF said.
The biggest risk to the economic outlook is the impact the eurozone crisis will have on bank funding and the downward spiral or "feedback loop" effect that can have.
Elsewhere, austerity measures in Japan and the US - or a lack of - pose a threat to the global outlook in the medium term, the IMF said.
The UK GDP figures released tomorrow by the Office for National Statistics (ONS) are expected to show that the economy ground to a halt in the final quarter of 2011.