There may be another financial crisis ahead, according to the British prime minister.
David Cameron has highlighted a number of major global concerns that all threaten political and economic stability enough to spark another financial meltdown.
"Six years on from the financial crash that brought the world to its knees, red warning lights are once again flashing on the dashboard of the global economy," Cameron wrote in the Guardian.
Cameron's ominous prophesising comes in the run up to the 2015 general election, when he has to sell a story of economic recovery to a British public that is, for the most part, yet to feel it.
"At a time of geopolitical uncertainties and no tangible success stories of growth, David Cameron's comments are an indicator that he has started beating the electoral drum," said Anastasia Nesvetailova, professor of international political economy at City University London.
"His comments give him enough 'external forces' to fight , prepare for, and (most importantly), domesticate in policy actions ahead of the general election.
"If this predicted big crash does not happen in 2015, he will look a hero (and not as silly as Gordon Brown with his 'end of boom and bust' speech in March 2007). If 'the crash' does happen, he will say 'I told you so'."
So what exactly are those flashing lights indicating a crash?
The eurozone economy is struggling to keep its head above water.
Europe is the UK's largest trading partner. So it's of significant concern that there appears to be a renewed downturn in the 18-member eurozone currency bloc.
Austerity, sluggish fiscal reforms and the ongoing restructuring of the financial sector are all weighing heavily on the eurozone.
The powerhouse German economy is barely growing as it reels from a sanctions war with Russia, a key trading ally. France, strangled by labour market regulation, is in the midst of an unemployment crisis and faces years more of painful public sector austerity. Italian growth has dried up as banks stop lending, pushing it into recession.
And there's the risk of deflation, with inflation hovering just above the zero mark. The European Central Bank has upped its stimulus, but to little effect. Unless things improve soon, they could get worse, an economic infection that could easily spread to the UK because of its ties to the eurozone.
Not everyone is convinced of eurozone economic disaster. Martin Weale, a policymaker at the Bank of England, said the eurozone economy is "not as gloomy as some people had feared".
Emerging economies are slowing down.
Western economies looked to their developing counterparts like India, China and Brazil with lustful eyes during the slump.
They and others have serious growth potential over the coming years and the growing middle classes means growing trade opportunities as well as the prospect of tempting over some foreign investment.
China, which is set to become the world's largest economy within a decade, has seen its GDP growth rate slow to its lowest since the financial crisis. India is just emerging from a currency crisis and weakening GDP as Narenda Modi, the new prime minister, implements a number of economic reforms, including privatisation. Brazil meanwhile is teetering on the brink of recession.
These are problems for the UK economy as the government tries to boost exports to target economies, such as China, and lure business investment in.
Islamic State militants are still seizing ground in the Middle East.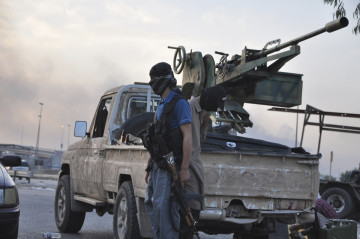 Though a US-led campaign of airstrikes has been in place for several weeks, it appears to have done little to break down the so-called Islamic State, a caliphate established over parts of war-torn Syria and northern Iraq by fundamentalist militants.
Analysts are worried at just how far the Islamic State will spread as its leaders eye Baghdad, which is not yet under the caliphate's control, and neighbouring states like Jordan and Turkey. The Islamic State could destabilise large parts of the oil-producing Middle East, deterring investment, pushing up oil prices and causing market turmoil.
Moreover, drastic action by foreign governments – including the potential for another ground war in Iraq – to tackle the Islamic State would be costly to the financially-bereft governments drawn in, like the US, UK and France.
The Russia-Ukraine crisis has just escalated further with no signs of stopping.
There is already a sanctions war going on between Russia and the West over the former's actions in Ukraine. Europe is particularly hurt by the sanctions because it does a lot of trade with Russia.
After Ukrainian president Viktor Yanukovich, a Kremlin ally, was ousted by pro-West demonstrators, Russia moved troops into Crimea to annex it. Since then, Russian separatist groups – supported by the Russian military – have battled in the east of Ukraine with the government, taking control of some cities, such as Donetsk.
Russia has poured more tanks and troops into the east of Ukraine, leading to the Kiev government to say it is preparing for all-out-war with the Kremlin.
As a result, more Western sanctions against Russia – from capital, to visas, to trade – look likely to be imposed - which will elicit a tit-for-tat response from the Kremlin - further hurting the European and wider global economy.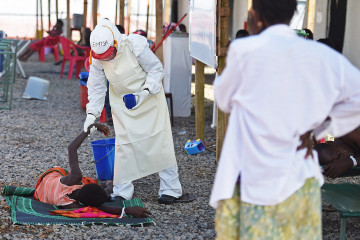 Thousands are still dying in Africa of the Ebola virus, which health workers are just about keeping contained.
The current Ebola epidemic broke out in March 2014 and has seen thousands of people – mostly impoverished West Africans – infected and killed by the virus.
Health workers, at some considerable personal risk, are working to keep Ebola contained and stop the spread of the disease to other parts of Africa and the wider world.
But the risk of spread remains. It has reached Europe and the US, but infected individuals have been isolated and treated successfully in hospital, though a handful has died.
If it Ebola were to burst open more widely – or the fear of such a situation heightened – serious measures would be taken to stop it travelling, like closing borders.
With closed borders and strict rules about who and what can travel in and out of countries, trade and tourism would suffer and so would the global economy.
The west African economy has already suffered heavily from Ebola because of the enormous costs of fighting the virus and treating its victims and the isolation of affected countries like Guinea, Liberia, and Sierra Leone.