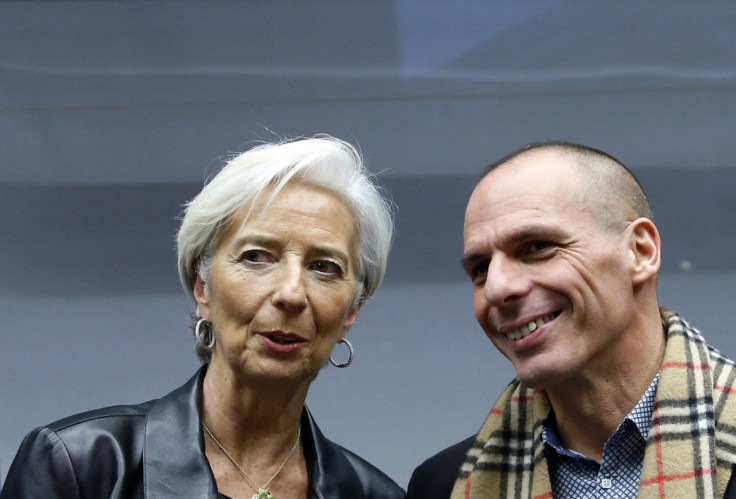 European finance ministers are set to meet in Brussels amid mounting pressure to reach a deal before Greece's bailout runs out at the end of this month.
Talks between Greece's radical left-wing leaders and the more right-leaning European leadership in Brussels have yet to produce any significant breakthrough amid rising concerns that Greece could look outside the eurozone for financial assistance.
Athens wants to alter the terms of its debt repayments, as well as the speed of austerity within its economy.
The Greek government has blamed its current financial bailout, agreed by its previous leaders with the International Monetary Fund, the EU and the European Central Bank, for bringing the Greek economy to its knees.
Greece sought the bailout, a number of loans amounting to €240bn (£182bn) amid a sovereign debt crisis in 2010.
Under the terms of the deal, Greece had to drastically slash public spending and stick to a tight schedule of repayments.
Germany's finance minister Wolfgang Schaueble, a key player in Monday's talks, has maintained a tough line on Greece since the left-wing government was elected last month.
Schaeuble told a German radio station on Monday that he was not optimistic over the prospects that a deal could be done in Brussels.
"From what I've heard about the technical talks over the weekend, I'm very sceptical, but we get a report today and then we'll see," he said.
"The problem is that Greece has lived beyond its means for a long time and that nobody wants to give Greece money any more without guarantees," Schaeuble said.
What happens if no deal by February 28?
The bailout expires at the end of the month and the government in Athens has vowed not to extend the programme.
Amid this uncertainty, the European Central Bank has already said it will not accept Greek government bonds as collateral when lending to banks.
Moreover, analysts have warned that the ECB could reduce or even halt the loans it makes to Greece's private banks, reducing liquidity in the Greek economy.
With the looming deadline, private deposits at Greek banks are being withdrawn by cautious investors. Around €4bn of these kinds of deposits left Greece in December, with a further €11bn being withdrawn in January.
Private banks therefore need more money from the ECB, just as the bank is making it harder for Greek banks to get access to it.
For its part, Greece's government would not run out of money immediately and has said it will be fine until June, when it is due to pay the ECB €3.5bn for bonds held by the bank.
Both China and Russia have offered financial assistance to the Greeks. While this has been politely declined so far, the possibility of Greece leaving the eurozone and striking deals on its own has re-emerged as a possibility if a deal cannot be reached.