At least 217 people are confirmed dead after a magnitude 7.1 earthquake devastated central Mexico, toppling buildings and causing thousands to flee in the capital Mexico City, as well as the states of Morelos and Puebla.
The destruction has been widespread, with people now being left to recover as the threat of aftershocks loom and onlookers around the world fundraising to help survivors and those affected by the tragedy.
Among those expressing their shock and sympathy were a litany of celebs, including Ellen Degeneres, Josh Gad, Eva Longoria and Enrique Iglesias.
Actor and Pitch Perfect 2 director Elizabeth Banks said on Twitter: "Images coming from Mexico City are terrifying. Thoughts prayers good vibes good karma aid - send it all."
Eva Longira, who has a Mexican heritage, expressed her sadness, saying: "What horrible news about the earthquake in Mexico. Thank God my husband and family are safe in Mexico City. My prayers are with everyone."
Talk show host Ellen Degeneressent her love to the Mexican people, as did Frozen star Josh Gad, who also mentioned the "insane" chaos around the world, referencing the many natural disasters that have laid waste to the region.
Earlier this month an 8.1 magnitude earthquake struck Mexico's southern coast, killing at least 90 people. Hurricanes Harvey and Irma also recently swept across Florida, Texas and the Caribbean, doing untold damage.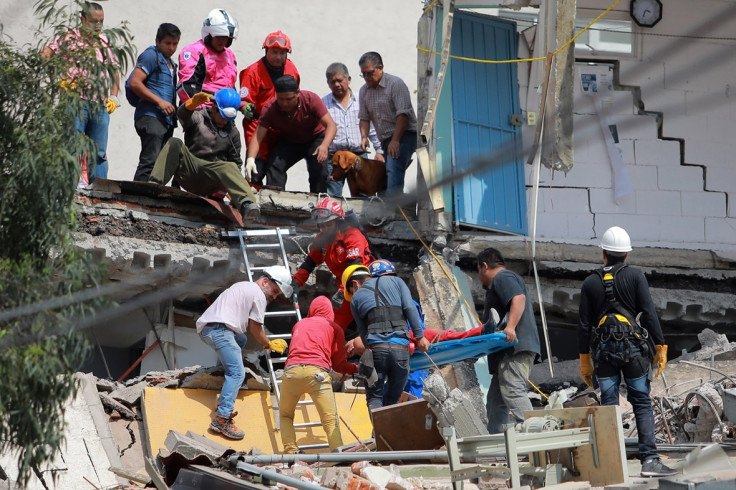 Singers Britney Spears and Enrique Iglesias shared pictures of hearts bearing the Mexican national flag, both sending their prayers to those affected. Rita Ora also tweeted.
Mexican Formula One driver Sergio Perez, who races for Force India, donated three million pesos (£124,500) to help victims. On Twitter he also urged followers to donate.
Former US president Barack Obama tweeted in Spanish, saying: "Thinking about our neighbors in Mexico and all our Mexican-American friends tonight. Cuidense mucho y un fuerte abrazo para todos."
His successor, Donald Trump, also tweeted: "God bless the people of Mexico City. We are with you and will be there for you."