The evacuation of rebels and civilians from east Aleppo is entering its final phase, said the Red Cross.
Convoys of buses and hundreds of cars will take the last remaining evacuees to opposition held areas in the west of the country, said the charity. Earlier, it said that around 4,000 fighters had been evacuated from the city overnight.
International Committee of the Red Cross (ICRC) spokeswoman Krista Armstrong told Reuters news agency: "The evacuation will continue for the entire day and night and most probably tomorrow (Friday 23 December).
Ingy Sedky, the spokeswoman in Syria for the ICRC, told AFP "We expect today to be the last convoys, the operation will continue all day long and during the night."
A rebel spokesman said that harsh weather was complicating the final phase of the evacuation, with northern Syria struck by a snowstorm.
Ahmed Kara Ali, spokesman for the rebel group Ahrar al Sham that is involved in the evacuation negotiations, said that "large numbers" remained in the city, but it was difficult to estimate exactly how many beyond the number being in the thousands.
Monitoring group the Syrian Observatory for Human Rights said early Thursday that around 3,000 remained in the city.
More than 34,000 people have already left Aleppo as part of the evacuation, the Red Cross said, after evacuations started eight days ago following a ceasefire deal brokered by Russia and Turkey.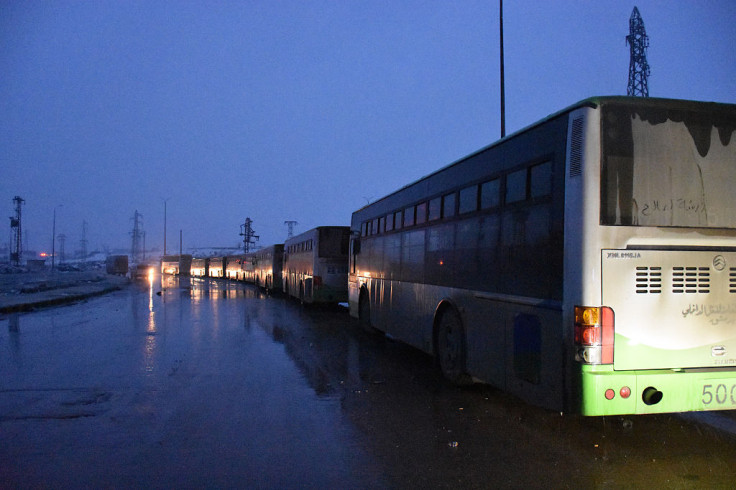 It followed an intensive month-long offensive by Syrian government forces backed by Russian air strikes that saw rebel groups driven from all the city apart from pockets in its eastern neighbourhoods.
Many who have fled the city are living in encampments in freezing conditions with the few possessions with which they managed to flee. Charity Save the Children warned that unless action is taken to help a humanitarian catastrophe could unfold.
"The thousands of young children and babies among them are extremely vulnerable, particularly as many children are weakened and malnourished after months under siege without proper food," the charity said.