Russian President Vladimir Putin has called for a ceasefire across Syria following the defeat of rebel forces in Aleppo saying Moscow would look to hold peace talks in Kazakhstan between the warring parties.
The Russian leader made the comments on Friday (16 December) during a state visit to Japan. He added that the summit in the Kazakh capital Astana, agreed to by Turkish President Tayyip Erdogan, would run in addition to UN brokered talks in Geneva.
Following the remarks the Syrian government announced it was suspending the evacuation of eastern Aleppo, accusing rebels of breaking terms of the deal. The Assad regime claimed rebels had blocked the evacuation of civilians from t towns elsewhere in Syria. The safe passage of government fighters from Foua and Kefraya was one of the conditions for the evacuation of Aleppo.
The ceasefire in Aleppo brokered by Russia and Turkey has barely held amid outbreaks of sporadic shooting, thousands of evacuees from the east of the city – fighters and civilians – are waiting in near freezing temperatures for the arrival of government buses.
The International Committee of the Red Cross (ICRC) has reported roughly 4,000 civilians left Aleppo on 16 December. They Syrian state news agency says 2,300 opposition fighters and their families left Aleppo the previous night.
Russia, the Assad regime's principal backer, has said more than 6,462 people, including more than 3,000 rebels and 301 wounded have been evacuated from Aleppo.
Turkey, which had backed rebel forces in Aleppo and remains the fighters' main support in rebel-held Idlib, has said more than 7,000 civilians were evacuated in the first five convoys to leave Aleppo, Syria's most populous city before the country's revolution in 2011.
According to Reuters Turkish officials have said a total of 8,000 civilians have now departed with a sixth convoy currently "en route to safety".
Putin's comments calling for a ceasefire across Syria echoed similar statements by the US Secretary of State John Kerry yesterday (16 December). "What the United States is working toward, and has been working towards for some period of time now, under difficult circumstances, where, if some parties do not want to move in that direction, it remains very difficult to secure, obviously, a ceasefire," he said.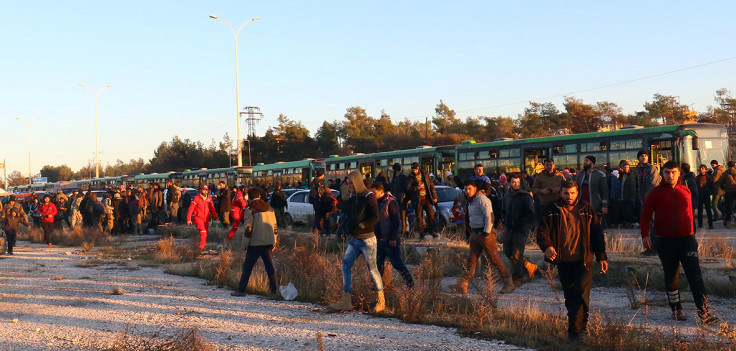 As four years of bitter stalemate in Aleppo draws to a close, what fate awaits those rebels and their supporters evacuated from the city remains unclear. Already the international community has raised fears civilians are being transplanted to another regime death trap in rebel-held Idlib.
"I don't know what will happen in Idlib, but if there is no ceasefire or political accord then it will become the next Aleppo," Staffan de Mistura the UN envoy for Syria said.
.