Evacuation of devastated eastern Aleppo 'just hours away' claim Hezbollah and Syrian regime
The evacuation of civilians and fighters was postponed as a ceasefire in the city broke down.
Civilians and fighters who have waited for 24 hours inside the last rebel-held enclave in Aleppo could be just hours from evacuation following agreements between the opposing sides.
The Lebanese Shia militia Hezbollah, which has sent troops to fight alongside the forces of Syrian President Bashar al-Assad, said through its media wing that the evacuation – postponed because of interference from Iran and a lapse in the ceasefire – was hours away.
"Intensive contacts between the responsible parties involved in the negotiations led to re-consolidating a ceasefire to exit armed fighters from eastern districts in the next few hours," the unit said in a statement.
It also claimed previous reports that the evacuation was due to begin yesterday were incorrect even though government buses were seen waiting for hours to enter the rebel areas.
The Syrian military also confirmed the evacuation is to begin shortly. An army official told the Associated Press that all preparations are ready for the operation to begin today (15 December).
A ceasefire brokered between Ankara and Moscow yesterday (14 December) unravelled as Iranian-backed militias insisted the deal for rebel fighters also needed to include safe passage for its combatants from the Shia majority towns of Foua and Kefraya.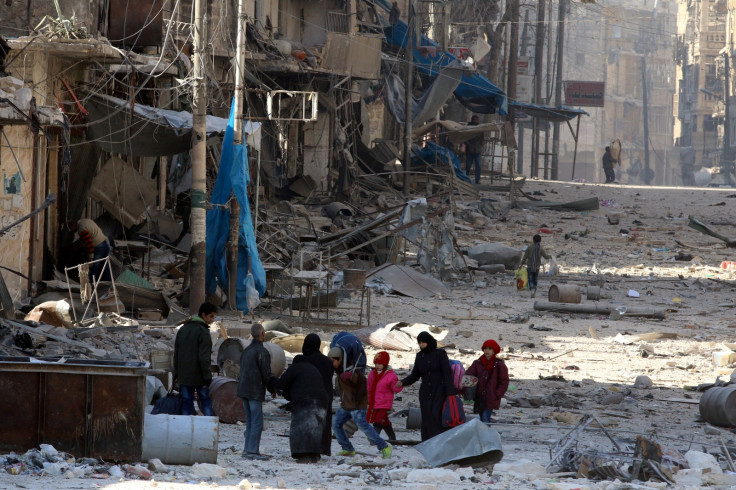 As 50,000 civilians remain trapped in the Aleppo, the United Nations said the devastating onslaught by pro-Assad forces on the east of the country in recent days could constitute war crimes.
Forces loyal to President Assad are reported to have killed at least 82 civilians in cold blood, including women and children, according to the UN's Human Rights Agency.
As the four-year-long stalemate in Aleppo reached its final, bloody climax, civilians in Aleppo posted heart-rending messages to the world on social media, saying they expected to die when forces loyal to the Syrian regime enter their areas.
As the ceasefire faltered, president Assad denounced it, saying it was designed to "keep the terrorists and save them". Assad has said he will expunge Syrian rebel forces, which the regime refers to as terrorists, from all areas of the country.
© Copyright IBTimes 2023. All rights reserved.