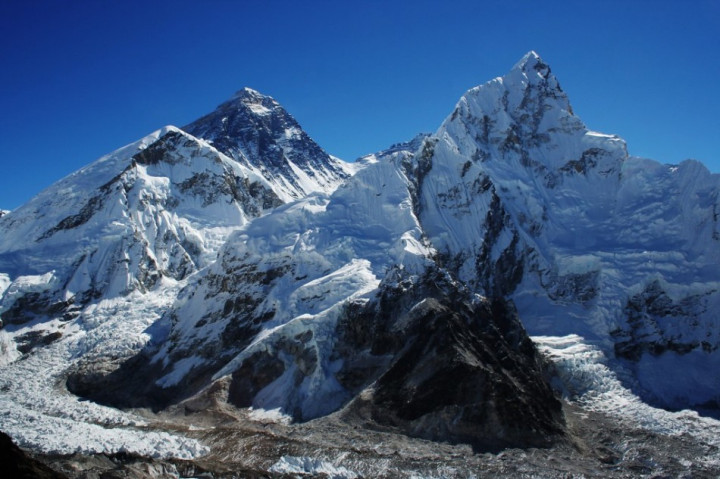 The glaciers on Mount Everest are shrinking and have lost 3% in 50 years.
Research presented at the Meeting of the Americas in Cancun, Mexico, showed that the snowline of the world's highest peak had shifted 180 metres upwards over the last half century.
The team, from the University of Milan, said Everest was "shedding its frozen cloak", with glaciers smaller than one square kilometre declining at the fastest rate.
Sundeep Thakuri, research leader, said these smaller glaciers have experienced a 43% decrease in surface area since the 1960s, while they found the ends of the glaciers had retreated by an average of 400 metres during this period.
The team also found that the area around Everest has been warming since the 1990s, while snowfall has been declining.
Using hydro-meteorological data from the Nepal Climate Observatory stations and Nepal's Department of Hydrology and Meteorology, the researchers found that the temperature in the Everest region has increased by 0.6C since 1992.
They believe the shrinking glaciers are a result of human-made greenhouse gases resulting in climate change, but have not established a firm connection between their decline and global temperatures.
Water tower for Asia
Thakuri says the retreating glaciers are a source of concern in terms of water availability: "The Himalayan glaciers and ice caps are considered a water tower for Asia since they store and supply water downstream during the dry season.
"Downstream populations are dependent on the melt water for agriculture, drinking, and power production."
He said the team plans to explore the relationship between climate change and shrinking glaciers further in order to better understand the behaviour of the hydrological cycle and being able to obtain water in the future.
In January, researchers from the Laboratory for Glaciology and Environmental Geophysics in Grenoble, France, said tropical glaciers in the Andes will probably disappear in the next few decades.
They found climate change was to blame for the decline and said hundreds of thousands of people will be left with water shortages as a result.
Lead author Antoine Rabatel said: "The ongoing recession of Andean glaciers will become increasingly problematic for regions depending on water resources supplied by glacierised mountain catchments, particularly in Peru."