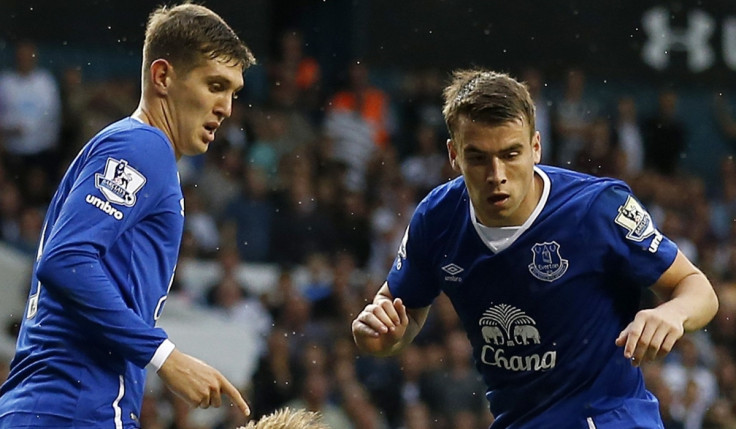 Everton defenders John Stones and Seamus Coleman remain doubtful for the Merseyside derby against Liverpool after manager Roberto Martinez said the club would make a late decision over the pair's fitness. Coleman has been hampered by a hamstring injury that saw him miss the win at West Bromwich Albion while England centre-back Stones has been absent for the last three games due to a knee problem.
"It is too early to tell, they are progressing well and in the next two sessions we will get a clear idea but I won't be able to tell you one way or another," Martinez told a pre-match press conference. "They are progressing well since the West Brom game and clearly we will make a decision as late as we can, probably not until the day of the game."
A six-match unbeated, including wins over Premier League champions Chelsea and the West Brom game where they recovered from two goals down to snatch all three points, means Everton go into the 225th derby with Liverpool as marginal favourites. The Toffees are currently fifth in the top flight, a point above their rivals from across Stanley Park.
Brendan Rodgers has come under increasing pressure amid a run of one win in Liverpool's last seven games, added to by the 1-1 draw with FC Sion in the Europa League. But Martinez has little sympathy for his rival given the club's huge financial resources.
"I think the pressure is the nature of the game," he explained when asked about the scrutiny on the Liverpool manager. "In the league now we created so many high expectations in every project, every time you go into a new campaign so it is normal. With the nature of winning games, if you win a game you're looking forward to the next one if you lose then you're under pressure and that is normal and we all accept that.
"I don't think being favourites or not matters going into a derby. When you go into this type of game it is what happens in the 90 minutes, what atmosphere we can create at Goodison. The way we have started and the games that we have played we are showing a little bit of form. If you look at it about the amount of money that Liverpool spend in the last three seasons clearly they need to be the favourites and carry those expectations."