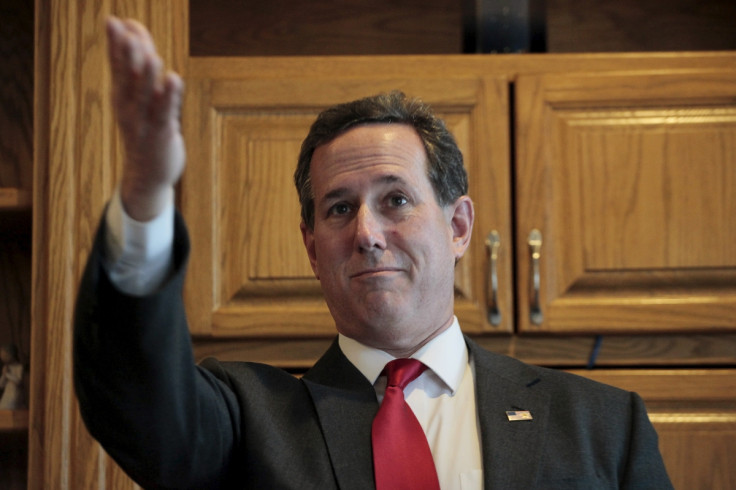 Former Pennsylvania Senator Rick Santorum is facing a wave of criticism after telling a young immigrant, who came to the US as an undocumented child, that she should leave the US, reapply for entry and be grateful for what the country has given her.
Elizabeth Vilchis, a mechanical engineer who came to the US from Mexico at the age of seven, asked Santorum what his advice was in light of President-elect Donald Trump's plans to get rid of the Deferred Action for Childhood Arrivals (DACA) enacted by President Barack Obama.
The federal programme gives undocumented immigrants work permits and deferred action from being deported, The Huffington Post noted.
Vilchis is part of a group known as Dreamers – undocumented immigrants who came to the US as children and are younger than 35.
"I stand to lose all the work that I've done if the new administration decides to end DACA," she said during a town hall meeting hosted by CNN's Van Jones. ,
She said, "I will lose my career and will potentially be labelled for deportation" should Trump follow through with his promise to get rid of the policy.
Vilchis received a less-than-sympathetic response from Santorum.
The former Republican presidential candidate began his response by sharing the story of his father's experience as a 7-year-old Italian immigrant who left Mussolini's dictatorship to come to the US even though "he wasn't allowed to come because of the immigration laws at the time."
Santorum then addressed Vilchis' situation directly.
"What most people in America feel is that you've been given a tremendous benefit by being here in this country," he said, adding that he imagined she would not "have had the opportunities to accomplish what you have" in Mexico.
"My final point is that you have the ability to go to any other country right now and apply those wares, and be successful, and reapply to come back to America," he continued. "Go and make the world a better place."
Before Vilchis could respond to his suggestion that she leave the US, CNN Republican contributor Ana Navarra leapt to her defence.
"First of all, this is your country," she said. "No matter what he says, no matter what anybody else says, this is your country."
"That's not what the laws says," Santorum argued. "As much as I'm sympathetic to you, you should recognise the gift that America has given you and that you can give to the world."
Twitter users answered swiftly and they were not pleased with Santorum's reply to Vilchis.