The former astronaut John Glenn has died in Ohio aged 95.
Hank Wilson with the John Glenn School of Public Affairs said Glenn died Thursday afternoon (8 December) at the James Cancer Hospital in Columbus, the Associated Press reported.
He became the third US astronaut in space in 1962 and the first of them to get into orbit when he circled the Earth three times.
Glenn turned to politics and spent 24 years as a Democrat from Ohio in the Senate and briefly made a run for president in 1984.
Before he breached the Earth's atmosphere, Glenn was a fighter pilot in WW2 and the Korean War and as a test pilot, set a transcontinental speed record.
After his lengthy stint in politics, he returned to space in the shuttle Discovery, at age 77, in 1998.
The US lost the space race to the Soviet Union when Yuri Gagarin underwent an orbital flight in 1961 and this was soon followed by sub-orbital flights by Alan Shepherd Jr and Gus Girssom.
The words "Godspeed, John Glenn," were radioed by fellow astronaut Scott Carpenter when Glenn launched off Cape Canaveral in February 1962 and into history. During the four hour and 55 minute flight, he uttered the phrase "Zero G, and I feel fine."
He was the last survivor of the original Mercury 7 astronauts.
President Obama, who awarded Glenn the Congressional Gold Medal in 2011, said in a statement: "John spent his life breaking barriers, from defending our freedom as a decorated Marine Corps fighter pilot in World War II and Korea, to setting a transcontinental speed record, to becoming, at age 77, the oldest human to touch the stars."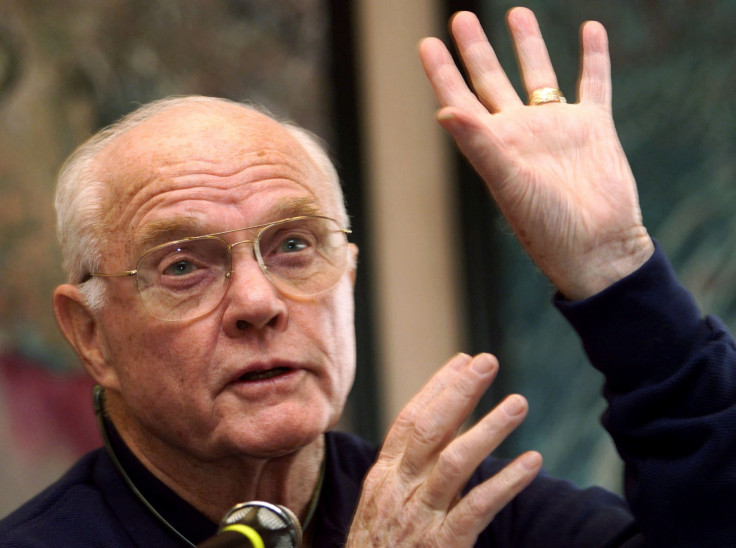 Earlier this year, Glenn apologised for his poor eyesight at the renaming of Columbus' airport after him. He said then he'd lost some of his eyesight because of macular degeneration and a small stroke. Glenn had a heart valve replacement in 2014.
Glenn had been in hospital for more than a week and died surrounded by his children and wife of 73 years. He is expected to be buried at Arlington National Cemetery, Virginia.