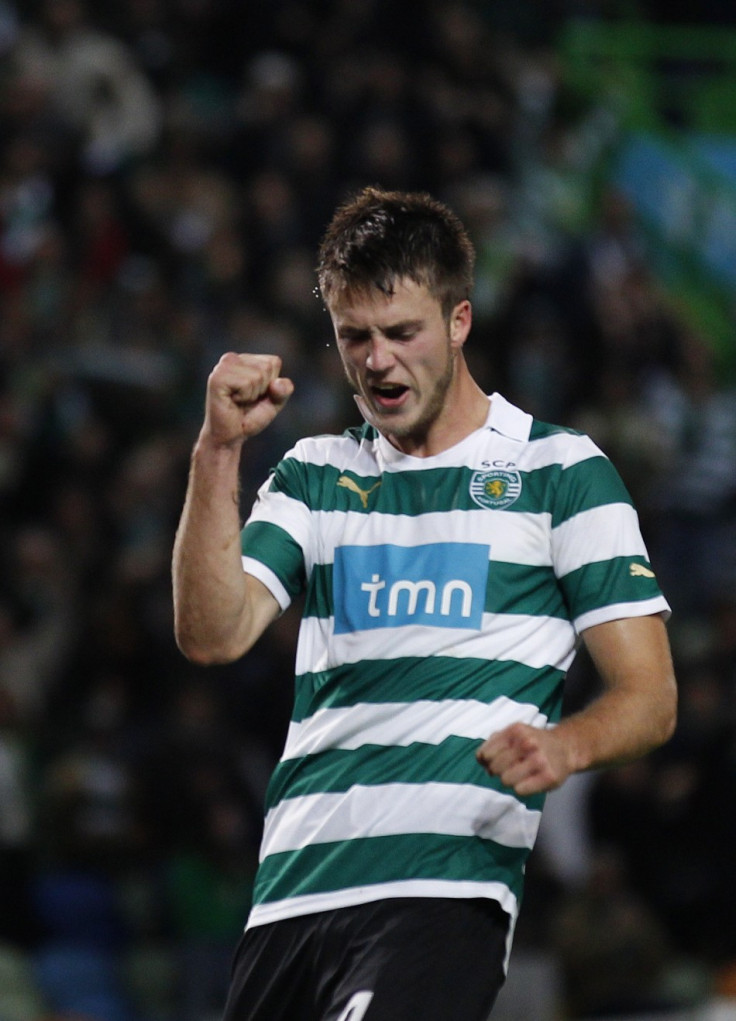 The agent of Sporting Lisbon striker Ricky van Wolfswinkel has told the International Business Times that Manchester United and Chelsea are monitoring the player, but any reports of a pending move to the Premier League are "rumours and nothing more".
Manchester United and Chelsea had both been credited with an interest in the £11million-rated Netherlands international earlier in the month, amid speculation Sir Alex Ferguson was hoping to use his excellent contacts, which enabled the Scot to sign Cristiano Ronaldo and Nani, in order to engineer a deal in January.
Van Wolfswinkel's representative Louis Laros, confirmed Chelsea and Manchester United had been monitoring the prolific forward yet dismissed the likelihood of a possible move to the Premier League in the near future.
Laros told the IBTimes that neither Sir Alex Ferguson nor Andre Villas-Boas had contacted him in regards to a transfer and suggested anything claiming to the contrary was simply speculation at this stage.
The Dutchman's agent was also keen to stress how happy Van Wolfswinkel was in Portugal despite the links of Manchester United and Chelsea, even though Laros did acknowledge the inevitable lure of a future move to the Premier League.
"I know they (Manchester United and Chelsea) are watching him but that is not unusual because they are watching all the best young players in Europe." Louis Laros told the International Business Times on Thursday.
"I have not spoken to anyone about his future. At the moment any interest is only rumours and nothing more.
"The club is very happy with him, and he is very happy with Sporting."
He continued: "If there is any concrete interest (from Manchester United or Chelsea) a solution must be made with Sporting first, but Ricky is not in a hurry, he is very laid back and very much enjoys life in Portugal.
"I do not envisage a move in January as I have not heard anything. I think it would be almost impossible but you never say never in football."
Although keen to play down an imminent move to Chelsea or their Premier League rivals Manchester United, Laros suggested England's top tier would be the logical next step in Van Wolfswinkel's fledgling career if and when Sporting decided to sell their burgeoning young talent.
"Obviously he would always be interested in in the Premier League. It would be the next step in his career." Laros told the IBTimes, when asked about a possible move to Manchester United or Chelsea in the future.
"It is the highest podium to showcase his talents but at the moment it is rumours and nothing more.
"I have not spoken to anyone, and he is very happy in Portugal."
The former Utrecht youngster, who finished as the Eredivisie club's top scorer with 20 goals last season, joined Sporting in June for a reported €5.4 million and has already netted an impressive 11 goals in 14 games this season.
"I can't think of anything that isn't good about this club." Van Wolfswinkel told the club's official website recently. "It's very good for me: a club with a great coach, a great team and great fans. The stadium is spectacular. It's at the same level as the best ones in Holland."
Van Wolfswinkel's immediate impact in Portuguese football has led to perhaps premature comparisons to Sporting Lisbon legend Mario Jardel. The former Brazilian international netted a staggering 67 goals in just 62 games for the club, and the iconic ex-forward praised the youngster for his seamless introduction at Estádio José Alvalade.
"He started very well. I hope he has the same success I had at Sporting. If he scores as many goals as I did. Then no doubt that Sporting will be champions." Jardel told FourFourTwo.com last month.
He made his debut for Holland in August 2010 and their coach Bert van Marwijk has made regualr visits to monitor the precocious young striker ahead of next summer's European Championships.