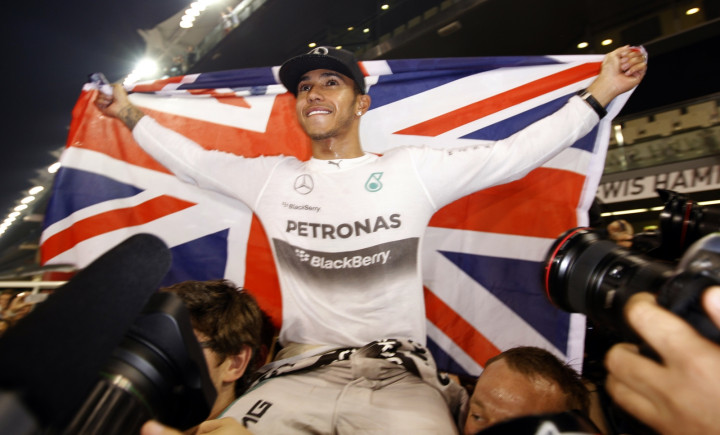 Lewis Hamilton is set to sign a lucrative new contract with the 2014 Constructors' Champions Mercedes. The contract is reportedly worth £100m over five years.
According to the Mirror, the only item missing on the contract is the signature of the recently crowned 2014 Drivers Champion.
The former McLaren man has said that signing the new contract is just a mere 'formality' as he has already sorted out the details and has taken advice from F1 legend Niki Lauda, who is the non-executive chairman of the Mercedes F1 team.
Hamilton has admitted that he is unsure of the approach to signing the new contract as he has no experience in such matters. Hence, there will not be much changes in his new contract from the one he currently holds with the Silver Arrows team.
"It's pretty much a formality, I would have thought," Hamilton said, as quoted by the Mirror.
"I haven't made any decisions of how you go about it. Ultimately, driving is what I do best. I'm not a businessman, I'm not a contract negotiator."
"I have spoken to [Mercedes F1's non-executive chairman and legendary driver] Niki Lauda for advice. I currently have a great contract. Ultimately I think not a huge amount will change," the newly crowned double World Champion added.
The Mercedes driver has called on the traditional F1 giants Ferrari and McLaren to step up and start working towards wins next season. He feels that with them battling through the season, the victories will be sweeter after this season saw the Brackley based team win all but three races, clearly dominating the field without much competition.
"I am still very young and definitely not finished. I definitely feel at top of my game. I hope as a team we can continue this. We want to be fighting with those who can be fighting with us. We want to be having competition."
"We want to be racing for wins, with the Ferraris and the McLarens through the year because that'll make it even sweeter," the Briton explained.
However, Hamilton, who became the fifth British driver to become a multiple F1 World Champion understands that this could be Mercedes' chance to embark on a period of dominance and emulate the likes of Ferrari and Red Bull.
"I do feel this is an era where we can continue to be the best, if we apply ourselves and learn from this year, and improve. For me personally I know I've got to work even harder next year," Hamilton concluded.