F1 2015: World champion Lewis Hamilton admits setup changes led to end-of-season slump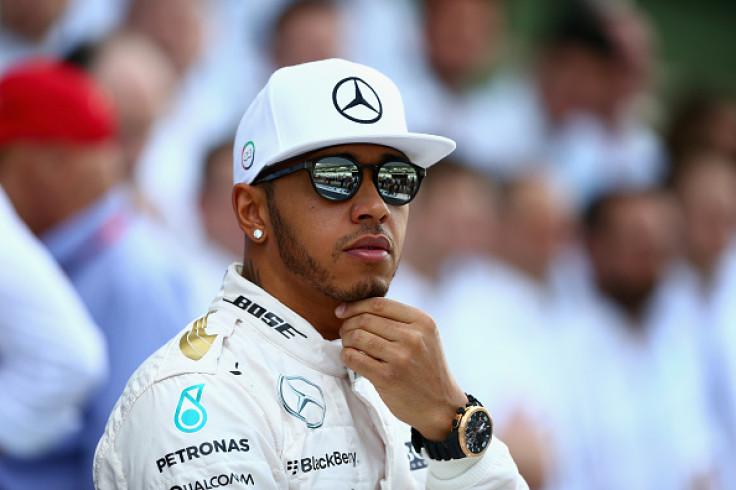 Lewis Hamilton has admitted that he lost speed to team-mate Nico Rosberg in the final part of the 2015 F1 season, after he was crowned the Drivers' World Champion for the second consecutive year. The Mercedes driver also admitted that he was aware of the exact cause for his sudden slump, but chose not to reveal it.
The former McLaren driver, who won his third world title at a canter, had to settle for second place in the last three races behind his team-mate. Moreover, Rosberg claimed six consecutive poles in the latter part of the season, after Hamilton had dominated for most of the year, when he took 11 pole positions in 12 races.
The 30-year-old Mercedes driver believes that it was the set-up change the team chose to do following their debacle in Singapore, which saw them comfortably beaten in qualifying and the race by Ferrari and Red Bull Racing. Hamilton admits he has about half a second to make up on his team-mate ahead of the 2016 season, and is confident that he can achieve it, despite the number of changes made to the car in the latter half of the season.
"I could pinpoint it [the problem], but I'm not going to say what it is. Let's just say the set up has changed a lot," Hamilton told Autosport.
"I know my race pace has generally been very good, but overall I reckon I've lost half a second, so I have to figure out how I get the car back to that area in which I'm able to exploit it more."
"Throughout the beginning of the season, and up until Singapore, the car was phenomenal, and I felt comfortable. It was really nicely set up, and it was really beneath me."
"But the team felt they had to make some changes, and after that it has not really been the same. It wasn't in the sweet spot, and it has maybe suited Nico's driving style a little bit more," the 2015 World Champion explained.
"I don't need to hope for things to change. I'll make it work. In these cars you have all these different tools and you can choose certain ones, but you don't always have the time to choose the right ones. Sometimes you get it right, sometimes you don't."
© Copyright IBTimes 2023. All rights reserved.