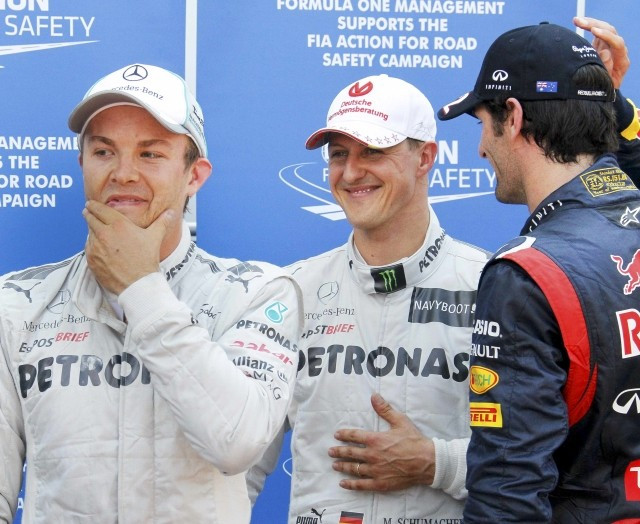 Seven-time world champion Michael Schumacher took pole position at the Monaco Grand Prix but will start from sixth place on Sunday after receiving a grid penalty. Red Bull's Mark Webber will be on pole after losing out to the German by 0.08s. It will be the Australian's first pole since last year's German Grand Prix. Schumacher's Mercedes team mate Nico Rosberg will start second on the grid, with McLaren's Lewis Hamilton third, ahead of Lotus's Romain Grosjean.
Schumacher picked up the penalty at the previous Spanish Grand Prix at Barcelona for a collision with Bruno Senna of Williams. The veteran would, otherwise, be celebrating the 69th pole of his career and the first since the 2006 French Grand Prix, when he was driving for Ferrari.
Meanwhile, former World Champion Fernando Alonso led the Ferrari to a sixth place finish, narrowly shading team mate Felipe Massa; the pair finished ahead of another former Ferrari driver, Lotus' Kimi Raikkonen.
Williams driver Pastor Maldonado, the winner in Spain, was dealt a fatal blow to hopes of a second successive win after he was handed a 10 place penalty for causing a collision with Sauber's Sergio Perez in the final practice session. The penalty, added to a further five place punishment for changing the gearbox means the Venezuelan will start 24th and last, on a circuit notoriously difficult for overtaking. That news, however, will be good for McLaren's Jenson Button, who will be bumped up to 12th after a disappointing qualifying session.
Ironically, the last time Schumacher recorded pole in Monaco - in 2006 - he was again stripped of the finish. The stewards then ruled he had deliberately stopped at the Rascasse (the penultimate corner of the lap) to deny Alonso (who was with Renault then) the pole.
Grid positions for Sunday:
Driver Team Grid
Mark Webber Red Bull 1
Nico Rosberg Mercedes 2
Lewis Hamilton McLaren 3
Romain Grosjean Lotus 4
Fernando Alonso Ferrari 5
Michael Schumacher Mercedes 6
Felipe Massa Ferrari 7
Kimi Raikkonen Lotus 8
Sebastian Vettel Red Bull 9
Nico Hulkenberg Force India 10
For the full timesheet for Qualifying, click here.
For the full revised starting grid (after penalties for Schumacher and Maldonado), click here.