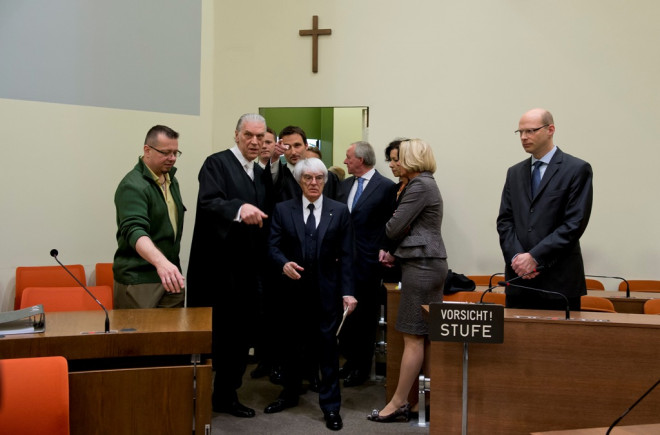 F1 boss Bernie Ecclestone has gone on trial for bribery in Germany in a case that could end his 40-year hold on the sport.
Prosecutors in Munich have charged Ecclestone, 83, with bribing jailed BayernLB banker Gerhard Gribkowsky with $44m (£26m, €32m) to push through the sale of F1 to CVC Capital Partners in 2006.
Prosecutors allege that Ecclestone favoured CVC because it was committed to retaining him as chief executive.
Ecclestone denies the allegations. He admits he paid $10m to banker Gribkowsky, who he said was blackmailing him over his tax affairs at the time. However, Ecclestone has denied the payments were linked to the CVC deal.
If convicted, Ecclestone faces up to 10 years in prison. However he struck a confident tone upon entering the Munich coutrtoom, telling Reuters: "I'm confident, the sun is shining."
London Ruling
In February, Ecclestone won a High Court civil case against him as a judge in London rejected a £85m compensation claim by a TV firm.
Mr Justice Newey ruled Ecclestone did pay $44m to Gribkowsky to help the sale of F1 shares to a "preferred buyer" in 2005. But this payment had not damaged the claimant, Constantin Medien – a German company.
Ecclestone was described in court as not being "a reliable or truthful witness" by the judge.
In January, Ecclestone stepped down from the racing circuit's management board pending the outcome of the German trial.
Ecclestone, who started out as a car salesman and now has a personal fortune of £2bn, has always said he has no plans to retire. However, he has said he would step aside if convicted in Germany.
Private equity firm CVC is F1's largest shareholder. Co-founder Donald Mackenzie has said his firm would sack Ecclestone if he was found guilty of wrongdoing.
Uncertainty about the F1 supremo's future has made it impossible to revive delayed plans to list the business on the Singapore Stock Exchange.