'Untruthful' Bernie Ecclestone Criticised as he Wins F1 Shares Bribery Case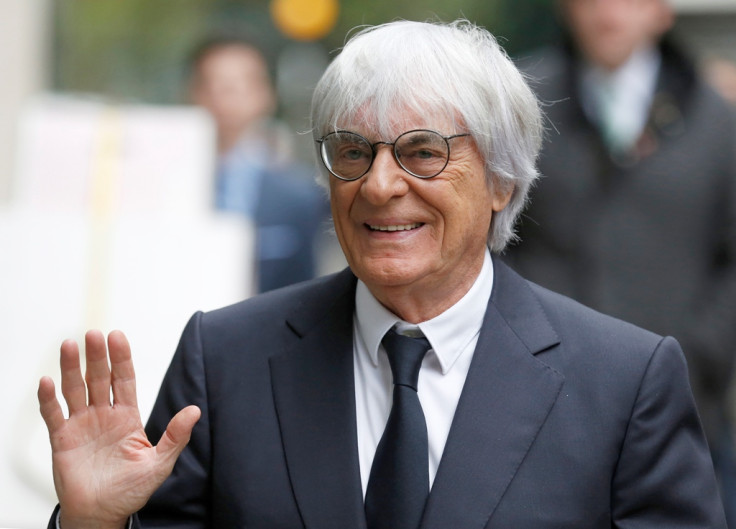 Formula One supremo Bernie Ecclestone did pay a bribe in a "corrupt agreement" over the sale of shares in the motor sport, a court has ruled.
But Ecclestone won a High Court civil case against him as a judge in London rejected a £85m compensation claim by a TV firm.
Mr Justice Newey ruled Ecclestone did pay £27m to a banker at BayernLB to help the sale of F1 shares to a 'preferred buyer' in 2005. But this payment had not damaged the claimant, Constantin Medien – a German company.
Ecclestone was described in court as not being "a reliable or truthful witness" by the judge.
The end of the civil case will be welcomed by Ecclestone, 83, who must now prepare for a criminal case over the payment, which carries the prospect of 10 years in jail.
Ecclestone has not denied paying £27m to banker Gerhard Gribkowsky, who he claimed was blackmailing him over his tax affairs at the time.
Constantin Medien claimed the shares were sold for less than their value to private equity firm CVC Partners and that this happened "without the normal and proper process." It claimed it had lost out in the subsequent sale of the shares.
Ruling on the case, Justice Newey wrote: "No loss to Constantin has been shown to have been caused by the corrupt arrangement with Dr Gribkowsky," the judge added. "That fact is fatal to the claim." He ruled that Ecclestone never intended to sell the shares below their value.
"The payments were a bribe. They were made because Mr Ecclestone had entered into a corrupt agreement with Dr Gribkowsky in May 2005 under which Dr Gribkowsky was to be rewarded for facilitating the sale of BLB's shares in the Formula One group to a buyer acceptable to Mr Ecclestone."
He wrote elsewhere: "I am afraid that I find it impossible to regard him (Ecclestone) as a reliable or truthful witness."
Gribkowsky is serving eight and a half years in jail for corruption and tax evasion, having been convicted last year.
Ecclestone resigned as a director of the company which owns and runs Formula One ahead of the upcoming criminal trial. He has vowed to clear his name and has been forced to take a back seat in the running of the sport while the criminal case proceeds.
© Copyright IBTimes 2023. All rights reserved.