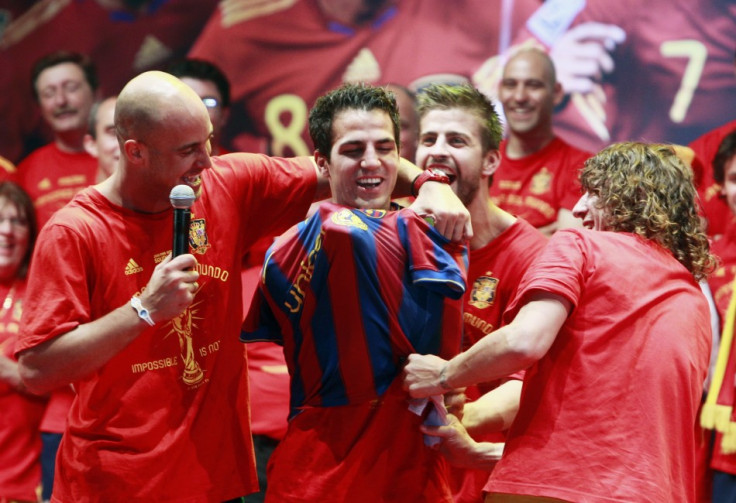 Former Arsenal captain Cesc Fabregas can understand why Gunners' fans were unhappy when Liverpool goalkeeper Pepe Reina put a Barcelona shirt over his head during Spain's World Cup celebrations.
Fabregas was still an Arsenal player at the time but was typically the subject of a plethora of rumours regarding Barcelona's intention to lure him away from Arsene Wenger's side. Fabregas left the Emirates a year later but the actions of the Liverpool player in question were deemed insensitive towards the north London Premier League club.
Fabregas believes Arsenal understood that he had no control over the actions of the aforementioned Liverpool player even though the act typically sparked a flood of further reports questioning the ex-Emirates talisman's Gunners future.
Fabregas finally ended his eight-year association with Arsenal during the summer when he finally engineered his exit from the Emirates in order to move back to his boyhood club Barcelona, but the stunt pulled by Liverpool's number one left a sour taste for some Gunners' fans.
"The Arsenal fans didn't like it and I understand why. But you could quite clearly see that I had nothing to do with it as I didn't even see what was being put over my head." The former Arsenal captain told the latest edition of FourFourTwo Magazine, when explaining the way Liverpool's Reina forced a Barcelona shirt over his head.
"You can control things which are down to you but when players do things that are by surprise then there is nothing you can do. The Arsenal fans understood this."
abregas spent eight years at Arsenal prior to returning to the Nou Camp earlier in the year. The Spaniard was part of the Arsenal squad that won the 2005 FA Cup, but failed to add to his solitary one trophy during his Emirates career.