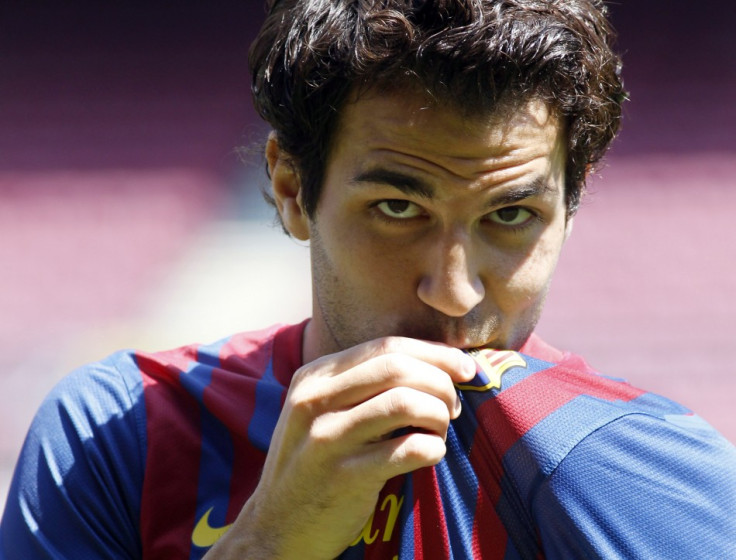 Cesc Fabregas believes he ended his lengthy association with Arsenal at "the right time".
The former Arsenal captain ended one of the most protracted transfer sagas in Premier League history when he finally engineered his return to his boyhood club in the summer.
During his stellar Arsenal career, Fabregas was perpetually linked with a return to the Nou Camp and the La Liga giants regularly irked Gunners chief Arsene Wenger with their hugely public courtship of the World Cup winning star.
Although Fabregas' respect and admiration towards Arsenal remains patently strong, the 24-year-old believes it was the right time for him to leave the Emirates.
Fabregas moved to Arsenal in 2003 having been developed in Barcelona's famed youth academy La Masia. The youngster subsequently established himself as one of Arsene Wenger's most important players and one of the Frenchman's greatest ever signings over his eight year career at the Emirates, and while he has regularly expressed his respect for his former club, the ex-Arsenal captain concedes Barcelona is everything one would expect.
"It was the right time to leave," The former Arsenal star told FourFourTwo magazine.
"At this club I have to work doubly hard to earn a place in the team."
While delighted to have swapped Arsenal for arguably the greatest club side of all time, the former Emirates talisman concedes the lifestyle away from football has taken some adjusting to.
"In London, if you lose you can still go out to dinner, live your life and people kept encouraging you," The ex-Arsenal playmaker, who spent the best part of eight-years in north London.
"However, at Barcelona when things are going well it is the best club in the world, but when things go wrong there is criticism."
Fabregas won just one trophy during his hugely impressive Arsenal career, the 2005 FA Cup, but he has made a near seamless transition at the Nou Camp. Fabregas scored Barcelona's third goal in the 3-1 El Clasico win against Real Madrid on Saturday.