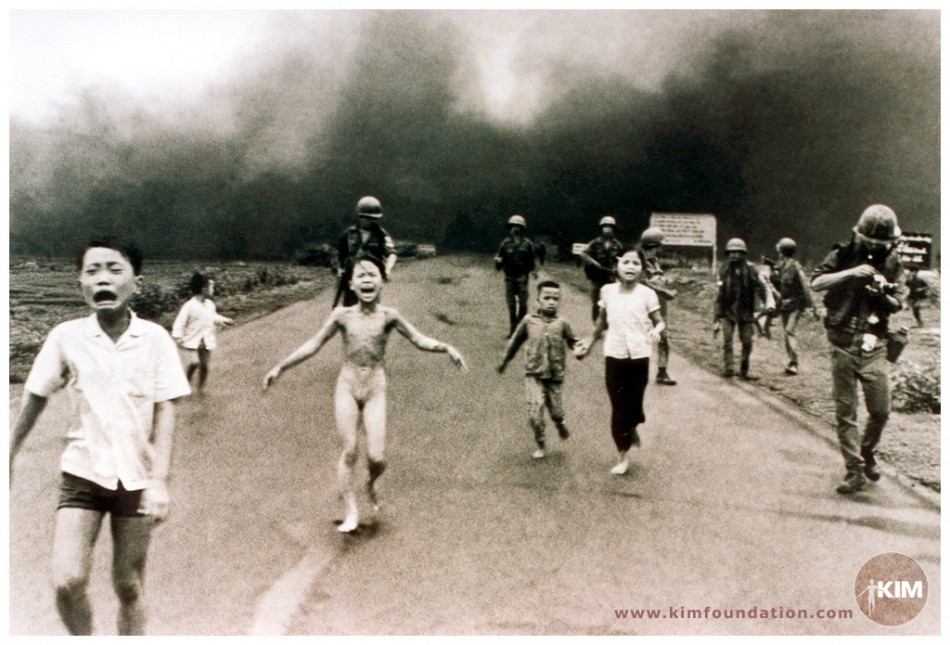 Facebook has backtracked on its decision to censor the Pulitzer-prize winning 'napalm girl' war photograph taken during the Vietnam war in 1972 after it was removed from the social media platform on the grounds that it contained nudity. The controversial move sparked widespread criticism from news organisations, media experts and Norwegian politicians, highlighting Facebook's growing influence and role as a source for news, despite the fact that it maintains it is not a media company.
In a scathing front-page letter to CEO Mark Zuckerberg, Espen Egil Hansen, the editor-in-chief and CEO of Norway's largest newspaper Aftenposten criticised Facebook's decision to censor the iconic photo by AP photographer Nick Ut in posts published by the newspaper. Hansen also accused the tech chief of "abusing his power" and "limiting freedom" as the "world's most powerful editor."
The controversy stems from Facebook's removal of a post by Norwegian writer Tom Egeland about a series of photographs that changed the history of warfare, which included The Terror of War. The historic photograph shows several children, including naked nine-year-old Kim Phúc, fleeing a napalm attack.
After Egeland was suspended from Facebook, Aftenposten reported on the suspension using the same photograph and then posted the article on Facebook. The publication reportedly received a notice asking them to "either remove or pixelate" the image.
"Any photographs of people displaying full nude genitalia or buttocks, or fully nude female breast, will be removed," Facebook's notice read. Before Aftenposten could respond, they claimed that Facebook removed the article.
Initially, the company defended its decision saying that although the "napalm girl" photo is iconic, "it's difficult to create a distinction between allowing a photograph of a nude child in one instance and not others," The Guardian reports. However, Facebook later reversed its position in a statement following the intense global backlash.
"After hearing from our community, we looked again at how our Community Standards were applied in this case," the company said. "An image of a naked child would normally be presumed to violate our Community Standards, and in some countries might even qualify as child pornography. In this case, we recognize the history and global importance of this image in documenting a particular moment in time.
"Because of its status as an iconic image of historical importance, the value of permitting sharing outweighs the value of protecting the community by removal, so we have decided to reinstate the image on Facebook where we are aware it has been removed."
The social media giant has also added that they will "adjust our review mechanisms to permit sharing of the image going forward" and will soon be available for users to share "in the coming days." Facebook also noted that it is "always looking to improve our policies to make sure they both promote free expression and keep our community safe".
In the open-letter to Zuckerberg, Hansen wrote that he was upset and disappointed about Facebook's initial decision and "in fact even afraid — of what you are about to do to a mainstay of our democratic society."
"Even though I am editor-in-chief of Norway's largest newspaper, I have to realise that you are restricting my room for exercising my editorial responsibility," Hansen wrote.
The censorship row further escalated after Facebook later deleted a post by Norwegian Prime Minister Erna Solberg that featured the iconic image. One of several Norwegian politicians who shared the war photo, Solberg later called on Facebook to "review its editing policy."
"What they achieve by removing such images, good as the intentions may be, is to edit our common history," the post read before it was deleted by Facebook. "I wish today's children will also have the opportunity to see and learn from historical mistakes and events. This is important."
Boasting around 1.7 billion users, Facebook's latest controversy comes amid growing tensions between the social media company and media organisations and concerns over its powerful influence on public opinion as a popular source of news for many users.
The company announced in June that it would be changing its news feed algorithm to prioritise posts from users' friends and family over stories posted by news and media organisations — a severe blow to these companies that have grown dependent on the platform for traffic and ad revenue.
Facebook was also recently accused by former Facebook curators of routinely suppressing stories from conservative-leaning outlets while curating stories for its Trending section. The company later denied the claims saying that an internal investigation found "no evidence" to support them.
"The least Facebook should do in order to be in harmony with its time is introduce geographically differentiated guidelines and rules for publication," Hansen wrote. "Furthermore, Facebook should distinguish between editors and other Facebook-users. Editors cannot live with you, Mark, as a master editor."