Facebook's shares have jumped by more than 6 percent after the launch of 'Gifts', a new initiative from the social networking giant that allows users to physical presents to friends and family.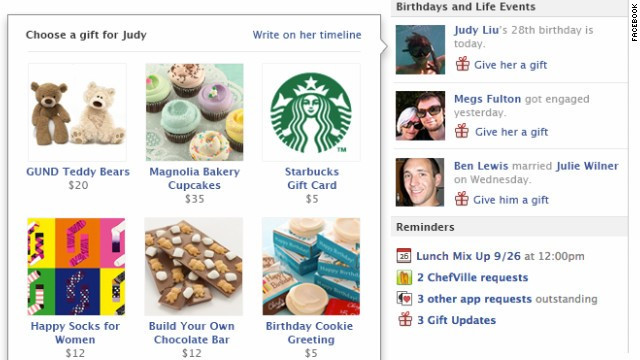 Profile data is used to create suggestions for gifts; if a Facebook user has 'Liked' a band's fan page, Gifts might suggest their latest album, as well as providing a reminder for an upcoming events.
Starbucks and Warby Parker glasses are just two of the over-100 companies that have partnered with Facebook to have their products included in Gifts.
The new Gifts scheme comes amid concerns that Facebook will be unable to sustain advertising revenue as its users begin to access the site from their smartphones, rather than PCs.
Gifts is now available to all 165.7 million of Facebook's American users, and, according to TechCrunch, could earn between $200 million and $600 million of extra revenue for the social network.
The online gift market is roughly valued at $38 billion per year.
Despite plummeting from its IPO of $38 dollars in May of this year, a well-received presentation from founder Mark Zuckerberg at the TechCrunch Disrupt conference, and new initiatives such as Gifts have seen Facebook stock steadily regain its value. Shares were valued at $21.66 when the markets closed last night.
However, there have been concerns that Facebook is gathering increasingly personal data from its users. IBTimes UK recently reported on Facebook's partnership with Datalogix, an organisation which collects data regarding supermarket loyalty cards, allowing Facebook to monitor its user's shopping habits and directly target advertising to them.
Using the information gathered by Datalogix, marketers can expect to make $3 on every dollar they spend on Facebook advertising.
Facebook previously gathered credit card data from purchases made in its various game apps; as well as allowing users to send presents to one another, Gifts will also be used to give Facebook a clearer picture of its customer's lifestyle, and help them target their advertising.
Speaking to PC Advisor, e-threat analyst Bogdan Botezatu said:
"The amount of private data users are sharing on social networking sites already exceeds all security precautions. The new information that might be shared by users is particularly dangerous in the case of account compromise."
"There is one question we need to ask ourselves" Botezatu contained. "Are we ready to live in an ecosystem where social networks know our names, our relationship history, phone number, email address, shoe size and, on top of that, where we live with pinpoint precision?"
'Gifts' will be gradually rolled out across US Facebook users starting Thursday 5 October. There are currently no announcements on when it will be available in other countries.