Shares in Facebook fell by 11 percent at the start of trading on Monday, dropping to $34.03 (£21.46) from its initial flotation price of $38.
The price had reached a high of $45 on 18 May when the social network first appeared on the Nasdaq Stock Exchange after a nervous start, which saw a half-hour delay to trading due to technical problems at the exchange.
As a result of the share price drop, Mark Zuckerberg's personal fortune dropped by $2.2bn to 'just' $18.5bn, while $11bn was wiped off Facebook's overall valuation.
Facbeook opened on Monday five percent down at $36.53, before dipping to as low as $33, before recovering slightly before the close.
Questions will now be raised as to why the social network decided to up the range of its initial public offering from between $28 and $35 to between $34 and $38 just days before it floated on the Nasdaq.
Nasdaq chief executive Robert Greifeld said over the weekend that it was a "humbly embarrassing" day for the exchange, which caused traders to not know at what level they had bought or sold until hours later.
"This was not our finest hour" Griefeld said after the delays to trading on Friday, as sources claimed that some of Facebook's underwriters were forced to buy shares in order to keep the value above $38 for its first day.
Facebook set records when it floated on Friday, with more than 566 million shares changing hands during the day - a record first day for any American-listed company.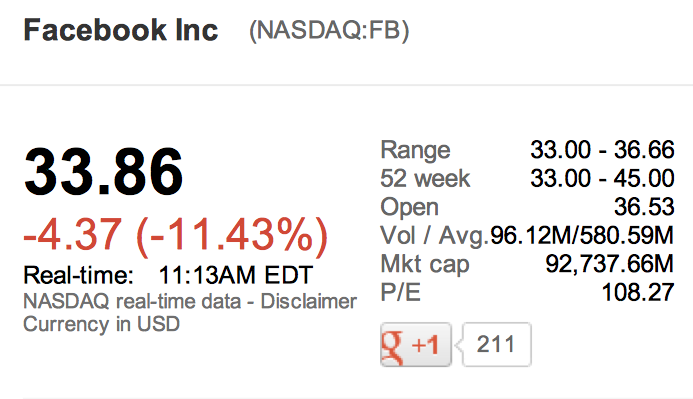 The 901 million-member social network floated with an IPO that was not only the largest of any technology company in history, but also third place in the overall IPO rankings, behind only Visa and General Motors.
But doubts remain over the company's future and in particular its ability to make money from mobile applications.
More than 400 million members log onto Facebook through a smartphone application each month, but these apps do not yet display advertising and therefore earn no revenue.
Added to the fact that some 82 percent of Facebook's revenue for the last quarter came from advertising and it becomes apparent that the company must start to monetise its apps if it is remain healthy.
Even its current advertisement model is under threat, as just last week General Motors announced that it would no longer be paying $10m per year for Facebook's services, and would instead maintain a free profile page.
Other techniques to earn revenue away from advertising including charging users for some services, such as a trial in New Zealand that asked users if they wanted to pay a small fee to ensure their posts appeared prominently in friends' news feeds.