General Motors, the world's largest car manufacturer, plans to stop advertising with Facebook, after revealing that paid adverts on the social network have little impact on sales.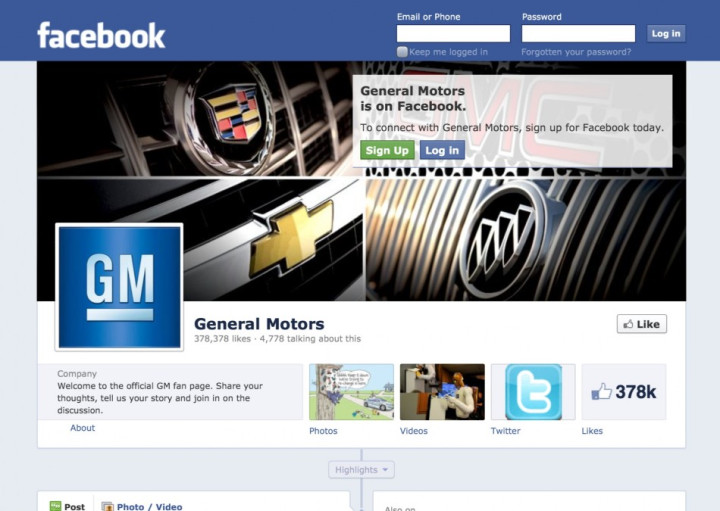 The news comes just days before Facebook is expected to float on the stock market in what will be the largest flotation of an internet company in history and see the site worth more than $100bn (£627m).
According to a GM official, and reported by the Wall Street Journal, the American car manufacturer, which owns Buick, Cadillac, Chevrolet and Vauxhall, has said it will continue to promote its products on Facebook, but will instead maintain a free page on the site.
GM "is definitely reassessing our advertising on Facebook, although the content is effective and important," according to the car maker's marketing chief, Joel Ewanick.
Following a 7.5 percent dip in ad revenue for Facebook in the first quarter of 2012, GM's reluctance to pay for advertising could spell trouble for the 900 million-member social network, which relied on advertising for 88 percent of revenue in the last quarter.
Despite the size of GM, the company only spent $10m on Facebook advertising last year - according to Wall Street Journal sources - accounting for a fraction of its annual ad budget of $1.8bn and Facebook's annual revenue of $3.7bn, but the departure of such a big name could convince others to follow suit.
Market analyst Nate Elliott of research firm Forrester said in a company blog post on 14 May: "Companies in industries from consumer electronics to financial services tell us they're no longer sure Facebook is the best place to dedicate their social marketing budget - a shocking fact given the site's dominance among users."
Facebook's reliance on ad revenue led the company to issue what investors took as a profit warning, stating that it must seek ways to monetise its smartphone applications, which do not yet display adverts, but yield 488 million unique monthly users.
The company is looking for revenue potential away from advertising, and last week began a trial in New Zealand to see if users would pay a small fee to have their posts appear prominently in friends' news feeds.
The site has been touring America this week ahead of its highly anticipated flotation on the Nasdaq, and due to high investor demand the site released a further 50 million shares on 15 May.
The company will hope to raise more than $14 billion after flotation, pushing the overall value past $100 billion and earning Mark Zuckerberg, the 28-year-old founder and CEO, around $17 billion.