Facebook opens first day at $42.05
82 million shares traded in the first 30 seconds
Technical issues meant half-hour delay before going public
Zuckerberg today earned more money than Estonia does in a year
More than 1,000 Facebook staff become millionaires
Facebook began trading as a public company on the Nasdaq Stock Exchange at $42.05, some $4 above expectations on a morning that saw CEO Mark Zuckerberg ring the bell to formally open the US market remotely from the Facebook headquarters.
The technology and business worlds have been left waiting for more than half an hour while the issues are fixed. Facebook was due to start trading at 11am EST (16:00 BST), two hours after Zuckerberg opened trading for the day, having stayed up all night with his staff at a 24-hour 'hackathon', which saw the 28-year-old billionaire play hockey with his employees.
After starting at $42.05 and reaching a high of $43.02, the price soon fell again to the expected IPO level of $38.00.
Some 82 million shares were traded in the first thirty seconds, driving the price up to $42.05.
The 900 million-member social network finalised its opening shareprice at $38 (£24) on 17 May, giving it an initial public offer of $16bn and valuing the company at $105bn (£620m) - the IPO is the largest in history for a technology company and the third largest overall, behind Visa and General Motors.
According to pre-trade speculation, the social network will start the day at $42.05, some $5 more than the expected price.
Mark Zuckerberg, who celebrated his 28th birthday on Monday rang the bell to open the Nasdaq remotely from the company's Menlo Park headquarters in California after he and his team of employees stayed up all Thursday night in a 'hackathon' - an event where new projects are worked on intensively by developers.
Demand for Facebook stock - which has the FB symbol - is huge and the company was forced to increase the amount of shares available by 25 percent during its roadshow last week to match investor interest.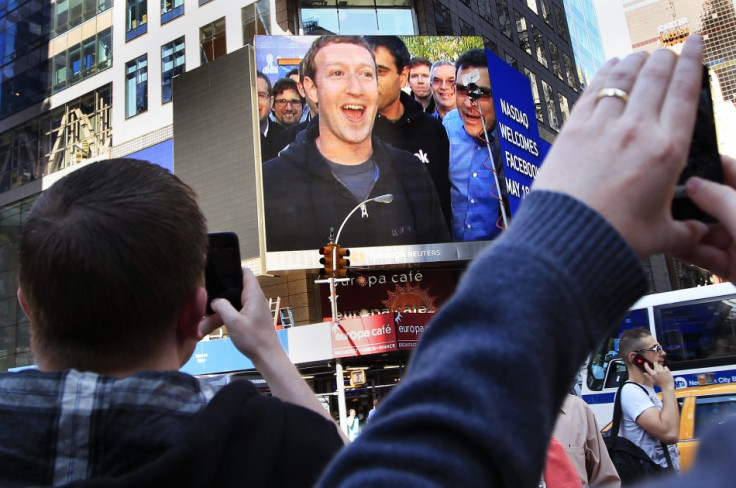 Facebook's IPO is valued at $16bn, with a further $2.4bn available in reserve, which is expected to be sold later this month. In total there will be 484.4 million shares sold.
Behind the scenes, Nasdaq engineers have been testing for the big event by rehearsing various scenarios for how the stock will open; a dummy ticker of ZWZZT has been used to allow clients to practice before processing orders for real.
Meanwhile, the New York Stock Exchange is making sure that it too is ready for the heaps of new shares waiting to be added to the market. LATimes reports that there is a dedicated server just for Facebook trading.
While such huge demand suggests Facebook's stock will soar, the site's reliance on ad revenue led it to issue what investors took as a profit warning, stating that it must seek ways to monetise its smartphone applications, which do not yet display adverts, but yield 488 million unique monthly users.
The regular web version of Facebook displays targeted adverts, but a recent survey reveals that just four percent of users click on them often, and a further 57 percent never click on them at all
The company is looking for revenue potential away from advertising, and last week began a trial in New Zealand to see if users would pay a small fee to have their posts appear prominently in friends' news feeds.
To get a grasp of just how big Facebook has become, check out our Facebook by Numbers feature, and for a trip down memory lane looking at how the site has changed since 2004, have a look at our Many Faces of Facebook slideshow.
Our full Facebook IPO coverage:
Facebook IPO: Meet The Company's Billionaires
Graffiti Artist David Choe to Net $200m From 'Pointless and Ridiculous' Facebook Float
Facebook Adverts Clicked by Less then Half of Users and Just 4% Click Often
Facebook: 5 Ways it Can Grow Even Bigger