Facebook Turns 10: Timeline of the Social Network's Milestones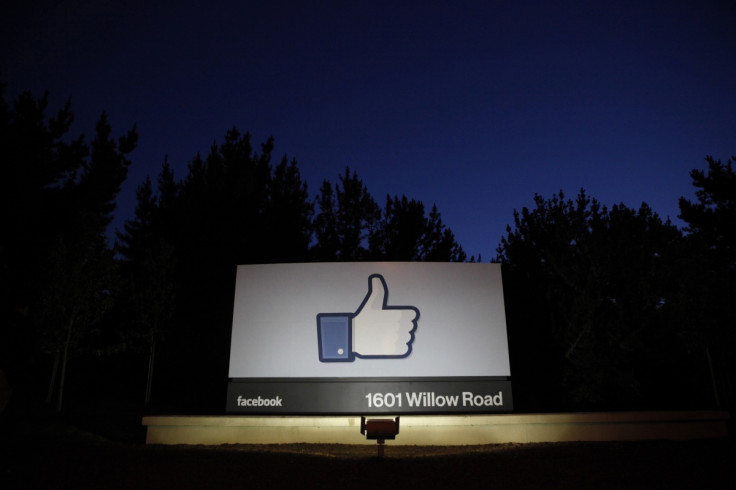 In celebration of Facebook's 10th birthday we take a look at the most significant milestones on the journey of the game-changing social network.
---
February 2004: Thefacebook launches
---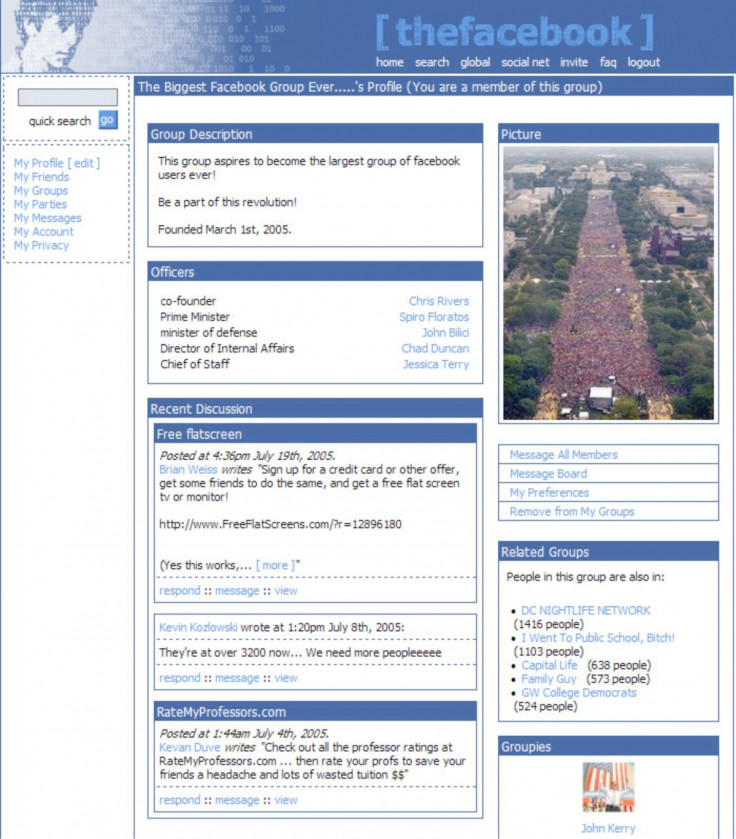 Facebook
Harvard University sophomore student Mark Zuckerberg, together with his roommates and friends Dustin Moskovitz, Chris Hughes, Andrew McCollum and Eduardo Saverin launched Thefacebook, exclusively for students at the Ivy League school.
---
March 2004: Expanding to other colleges
---
Membership for Thefacebook is expanded to include the universities of Columbia, Stanford and Yale. Students have to use their university-issued email addresses to register for the service.
---
September 2004: Facebook Wall launches
---
Remember how important the Facebook Wall used to be? The feature allowed users to post messages to each other on their Walls.
---
December 2004: 1 million users
---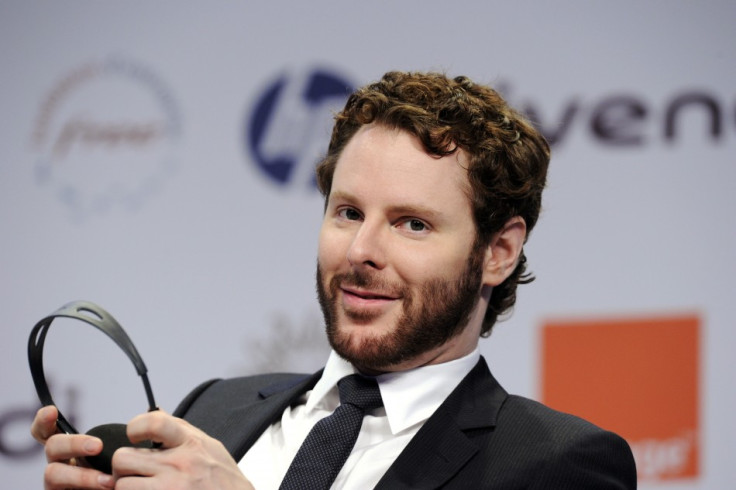 Sean Parker
Reuters
By December 2004, Thefacebook had achieved one million users, and the company had moved its operations to Palo Alto, California, under the advice of entrepreneur Sean Parker (founder of file sharing service Napster), who became Facebook's president.
---
September 2005: Facebook is born
---
Dropping "the" from its name, Facebook is born after the company manages to purchase the domain name facebook.com for a cool $200,000 (£122,354, €148,170). In the same month, a high school version of Facebook launches, with users having to register with their high school-issued email accounts.
---
October 2005: The launch of Facebook Photos
---
In autumn 2005, Facebook debuts a new photo album uploading function – Facebook Photos.
---
April 2006: Facebook debuts its first mobile app
---
Realising the potential for mobile devices, Facebook launched its first mobile app way back in 2006.
---
September 2006: Facebook News Feed and users aged 13 and up
---
Reuters
Following the successful launch of Facebook for high school, the company makes the social media network open to all users who are 13 years old and above, without requiring an invitation. At the same time, Facebook launches the News Feed and Mini-Feed to compile status updates from Friends onto the Facebook homepage.
---
October 2007: Facebook London opens
---
The company launches the UK office at 18 Soho Square, the first Facebook office outside the US.
---
April 2008: Facebook Chat launches
---
In April 2008, Facebook launched its own messaging service, Facebook Chat, which eventually led to the demise of MSN messenger. Soon after, in July 2008, Facebook launched its first iPhone app.
---
February 2009: The "Like" button is introduced
---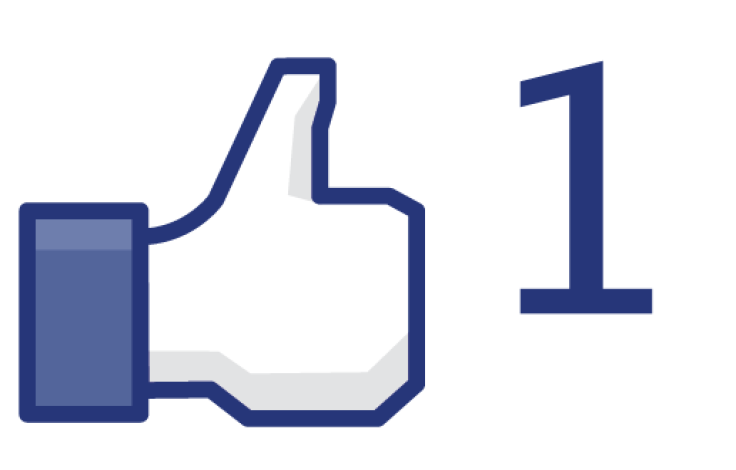 Where before you could just read and comment on other users' Facebook status updates, now a button was introduced to "Like" comments and content that you agree with.
---
2010: A film and a whole host of services
---
The Social Network, starring Jesse Eisenberg and directed by David Fincher, won three Academy Awards and three Golden Globes, including best motion picture, screenplay and director. Also in 2010, Facebook launched four new features – Facebook Questions, Facebook Stories, Facebook Places and a revamp of its Groups feature.
---
2011: Video calling and Timeline Launched
---
Facebook launches the video calling feature on Facebook Chat, as well as Timeline, a revamp of the typical Facebook profile, which enables users to share specific stories of their lives. Also in this year, Facebook reaches 845 million users.
---
May 2012: IPO and one billion users
---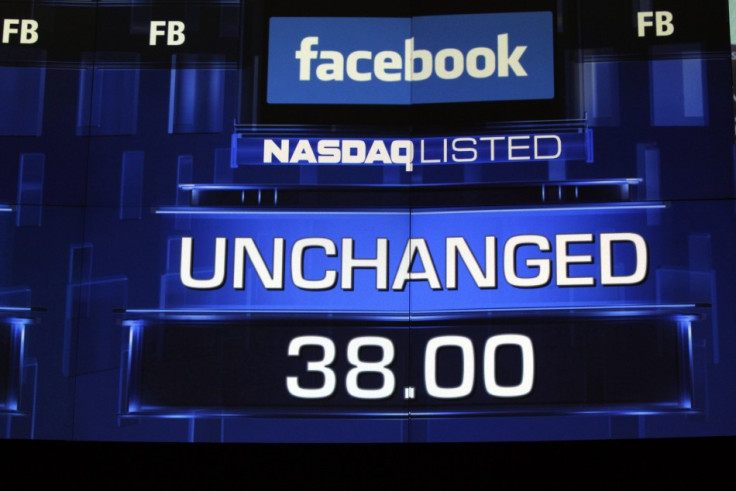 2012 was a pretty big year for Facebook. The company launched its IPO on 1 Feb 2012 and was valued at $104 billion, the largest valuation to date for a new public company. Facebook also acquired Instagram for $1bn, and the company reported that over one billion users were active users on the service.
---
2013: Facebook Home, Graph Search and internet.org
---
Last year, Facebook attempted to change the way users interact with the social network on mobile, introducing Facebook Home, a user interface Home Screen skin for Android that was launched on HTC phones, but soon tanked.
The company also launched its Graph Search tool, which provides answers to users' search requests using a special algorithm.
Finally, Mark Zuckerberg launched his internet.org project – a global partnership to bring internet access to developing countries that are not connected.
---
February 2014: Facebook celebrates its 10th birthday
---
Ten years on Facebook is a phenomenon with 1.23 billion monthly active users and making more money from ads on mobile devices than it is from desktop ads.
© Copyright IBTimes 2023. All rights reserved.