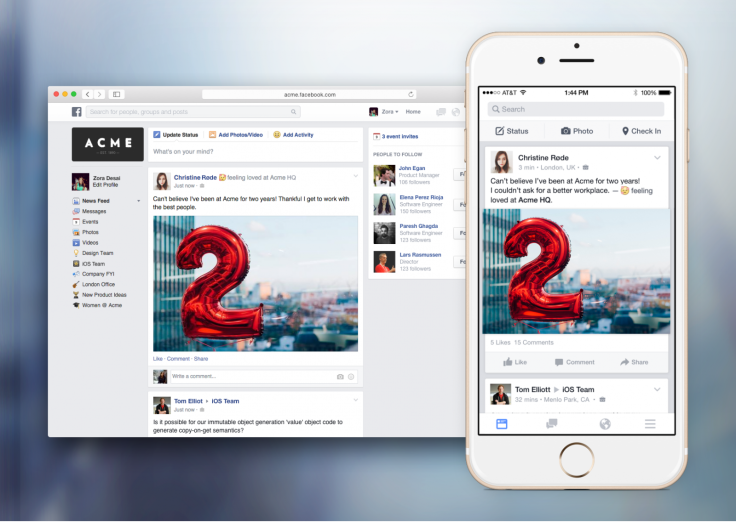 Discreetly checking Facebook behind your boss's back may be a thing of the past, as the social network launches a pilot scheme intended to be used in the office.
Called Facebook at Work, the system looks and feels much like regular Facebook, but aims to bring the site's news feed, groups, messaging and events features to a more professional environment, while keeping them completely separate from the cat photos and baby scans clogging up your regular feed.
Launched this week and available only to "pilot partners" for now, Facebook for Work is available to the chosen few as a mobile app for iOS and Android devices. The apps make use of groups and messaging just as Facebook's regular offerings, but are designed purely for use within individual companies.
Although the service could be an ideal candidate for a new revenue stream, Facebook has not revealed how it plans to monetise the new tools, or indeed whether it will charge or not.
The launch sees Facebook compete with Microsoft, which bought work-based social networking company Yammer for $1.2 billion (£780 million) in 2012. In November last year, Microsoft launched Skype for Business, a set of communications tools based on the popular video-calling and messaging service.
Facebook for Work will look to replace the company's existing internal messaging platforms, as well as calendar services, by including its event-making tool in the new apps. Any messages sent, groups made or events scheduled in Facebook for Work cannot be viewed by the outside world, and are also kept completely separate from each employee's personal Facebook page and their interactions with friends and family.
The new service was first discovered by TechCrunch in June 2014; known as 'FB@Work', the tools were developed in Facebook's London office inspired by how the company's own staff use its tools for work.
Heading Facebook for Work is director of engineering Lars Rasmussen, who joined the social network in 2010 after playing a key role in the launch of Google Maps. He was also responsible for Google Wave, the cloud collaboration tool which launched in 2009 but was dropped a year later due to a lack of interest from users.