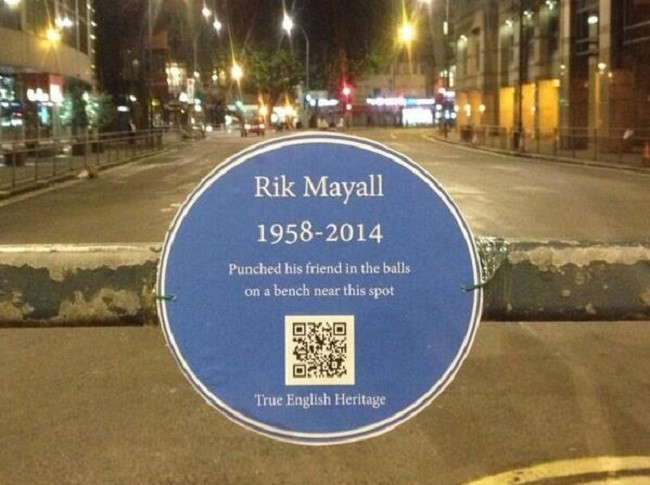 A humourous makeshift Blue Plaque has been put up in Hammersmith Broadway in tribute to comic legend Rik Mayall.
It reads: "Rik Mayall punched his friend in the balls on a bench near this spot".
The QR code on the so-called plaque, that used to be put up in memory of people who lived in a certain area, when scanned apparently links to the opening credits of Bottom, the slapstick sitcom comedy starring Mayall and his comedy partner Adrian Edmonson.
He does indeed punch his mate in the balls after being provoked by his friend Eddie.
The blue plaque commemorations is now currently closed but it used to be administered by English Heritage.
The cause of the star's death is still not known. He was found collapsed by his wife, Barbara Robbin, yesterday morning. Paramedics were unable to save him and he was pronounced dead at the scene.
His friend and Comic Strip Presents colleague Peter Richardson told BBC Radio 4 Today programme, Mayall was chatting away to his son half an hour before he collapsed. The comic had survived a near-fatal crash on a quad bike almost 16 years ago.
"It was very quick and we still don't quite know what happened but it was a seizure of some sort."
He added: "He had 16 years after the quad bike and I think that at the time people didn't think he would survive.
"But he lived for another 16 years and it was just shocking that he was so happy and seemed so healthy when he did go."