A millionaire businessman who was found guilty of fraud for selling fake bomb detectors to security forces in warzones has been jailed for 10 years.
James McCormick, 57, is estimated to have made more than £55m from selling the bogus devices, which were based on a £13 novelty golfball finder, for thousands of pounds each.
He was convicted of three counts of fraud in April. McCormick, of Langport, Somerset, sold some of the devices for £27,000 each and is thought to have made more than £38m from sales to Iraq alone.
Judge Richard Hone said at the Old Bailey that McCormick as a "callous confidence trickster" whose product was likely to have caused death and injury.
McCormick was jailed for the maximum term of 10 years.
Police said some of the devices modelled on the ball finders are still in use at some checkpoints.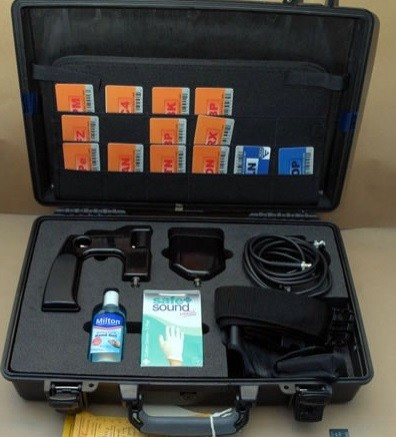 The Advanced Selection Equipment devices were marketed to governments and security organisations under the claim that the equipment could detect explosives, drugs, ivory and even people up to three miles away. They could work underwater and through walls, the accompanying literature claimed.
McCormick sold his fake devices to countries such as Iraq, Hong Kong and Kenya.
Prosecutor Richard Whittam QC said the devices "did not work and he knew they did not work".
The prosecution said the "inescapable conclusion" was that Iraqi civilians and soldiers died because of their use.
Hone said: "Your fraudulent conduct in selling so many useless devices for simply enormous profit promoted a false sense of security and in all probability materially contributed to causing death and injury to innocent individuals."
He added McCormick had shown a "cavalier disregard for the potentially fatal consequences".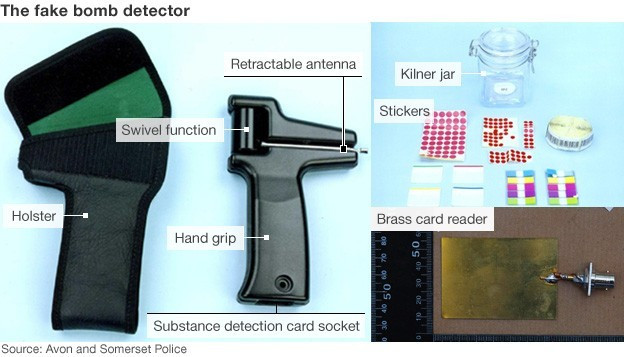 Det Supt Rock, of Avon and Somerset Police, said: "McCormick showed a complete disregard for the safety of those who used and relied upon the device for their own security and protection.
"We heard evidence these devices were used at numerous checkpoints within Iraq between 2008-10, a period when thousands of the devices had been purchased. It is clear both civilians and armed forces personnel were put at significant risk by relying upon the equipment.
"To sell the devices, he relied upon lies and wholly deceitful claims as to the performance capabilities. McCormick targeted the sales of his device at countries that were vulnerable to terrorist acts and which did not have the scientific expertise to test the effectiveness of the equipment.
"It would not be wrong to assume the lives of civilians and military personnel were put at risk by reliance on these devices."